Easy Greek Dinner Party Menu
Posted: 09/26/2019Updated: 02/07/2022
I am really confident when I cook for two people. I can even cook for three or four people, but when I was approached to cook dinner for 10 girls on a bachelorette trip I was a little worried. Then, I came up with this easy Greek dinner party menu.
It wasn't perfect, but the Greek meal was a hit with the girls on the bachelorette! When I shared the meal on my Instagram stories, many of my followers were interested in the recipes so that they can throw their own Greek dinner parties.
I came home and refined the meal and the ingredients. The end result was this easy, healthy and delicious Greek meal. This meal is perfect for a group of 6-8 guests, but could easily be doubled for a larger crowd.
Note: Some of the links on this page are affiliate links. If you do end up purchasing any of these recommended items, I will receive a small amount of commission. This helps me continue creating great recipes for all of you! Thank you for understanding that I would never recommend a product that I don't actually use and believe in.
Three hours before you begin cooking your Greek dinner party meal you will need to start marinating the chicken and steak and soaking the skewers. Prepare the marinade by combining olive oil, smashed garlic cloves, and Greek seasoning for the steak and olive oil, smashed garlic cloves, lemon juice, and Greek seasoning for the chicken
Then cover the meat and place it in the fridge to marinate for at least three hours. Soak 20 wooden skewers in water while the meat marinades.Then move on to preparing the rest of the meal.
This easy Greek dinner party menu starts with a simple appetizer platter with 2 dips: tzatziki dip and hummus. Of course, you can make these dips at home, but I decided to buy them store bought to save myself some time. I like the Cedar's brand dips best.
Then, I paired the dips with some veggies and toasted pita points. Usually, I toast my pitas on the stove top to give them a little crisp before I cut them into points. If you prefer, you can buy crispy pita chips instead of soft pita rounds.
Next, you will want to prepare the Greek salad and dressing. Prepare the salad by washing the veggies and romaine lettuce. Chop the romaine lettuce and place into a large salad bowl.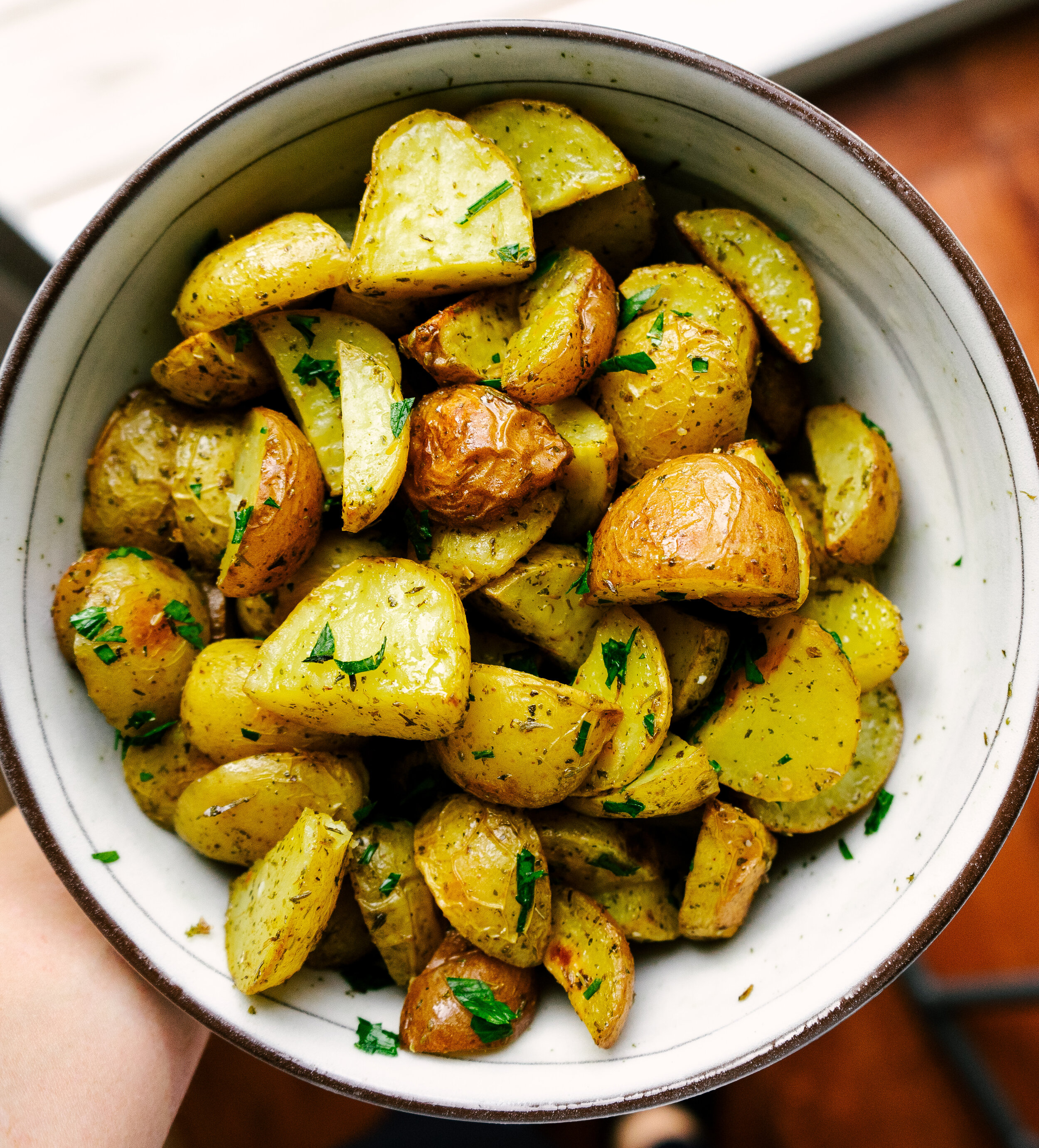 Continue preparing for your Greek dinner party by topping the romaine lettuce with chopped cucumber, quartered cherry tomatoes, Kalamata olives, cubed or crumbled feta, and fresh herbs. Prepare the dressing by combining olive oil, red wine vinegar, greek seasoning and smashed garlic cloves.
Set the dressing and salad to the side. You will not toss or dress the salad until just before you are ready to eat. When you dress the salad leave the full garlic cloves on the side. Your guests will not want to eat full garlic cloves 🙂
Preheat your oven to 400F to bake the potatoes. Clean and cube your baby red or yellow potatoes. Toss the potatoes in oil and greek seasoning. Bake for 25 minutes, toss and bake for an additional 20 minutes. When you remove the potatoes from the oven toss them in lemon juice and fresh herbs to serve.
Continue cooking your Greek dinner party menu by preparing the meat. Place chicken and beef on respective skewers and discard the garlic cloves. While the potatoes cook, prepare the chicken and steak.
Cook the chicken for 12 minutes over medium heat on a grill pan, rotating every 2 minutes. Cook the beef for 8 minutes over medium heat on a grill pan, rotating every 2 minutes. Place the meat on a platter to serve.
This easy Greek dinner party is best for 6 to 8 people depending on the appetites of your guests. Serve the appetizer platter first and then the meal. I like to serve the meal family-style so that everyone can share.
Keep reading to grab the full grocery list and full recipes. If you make this easy Greek dinner party menu for your family or friends, please let me know in the comments or on Instagram!
Looking to learn even more about hosting dinner parties? Click here to learn more about hosting an international dinner party!
Grocery List
3lb boneless skinless chicken breasts
1.5lb sirloin steak
1 bottle olive oil
1 container Greek seasoning blend
5 lemons
3 bulbs of garlic
4 hearts of romaine
3 medium cucumbers
4 medium tomatoes
1 container feta cheese
1 jar kalamata olives
1 bottle red wine vinegar
2lbs baby red or yellow potatoes
1 container tzatziki dip
1 container plain hummus
1 bag baby carrots
1 head of celery
1 bag pita rounds
1 bunch fresh parsley
1 bunch fresh dill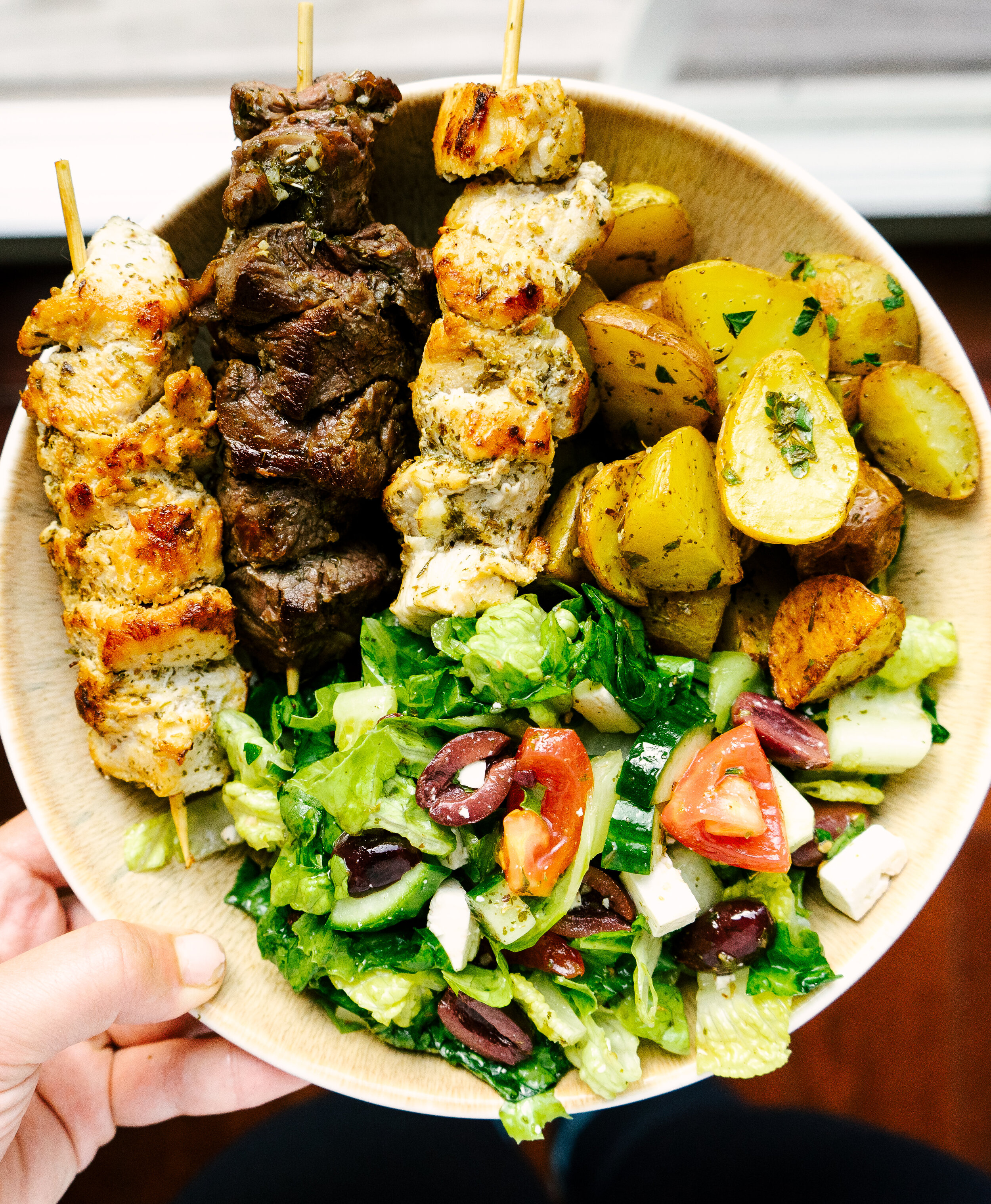 Easy Greek Dinner Party Menu
prep time: 3 hour
cook time: 45 M
total time: 3 H & 45 M
ingredients:
instructions:
How to cook Easy Greek Dinner Party Menu
Prepare the chicken and steak skewers a few hours prior to cooking to allow them to marinate
Take 20 small-medium skewers and soak them in water until you are ready to cook the meats
Cut the chicken and steak into bite-sized cubes
Combine 1 cup olive oil, 6 smashed cloves of garlic, 2 tbsp Greek seasoning, and 1/4 cup lemon juice and pour over cubed chicken
Combine 1/2 cup olive oil, 4 smashed cloves of garlic, and 1 tbsp Greek seasoning and pour over cubed steak
Toss chicken and steak in their marinades separately and place in covered bowls or containers in the fridge to marinate for at least 3 hours
Prepare the appetizer board by cleaning and chopping veggies, placing dips in bowls, lightly toasting pita on the stovetop and cutting into points
Garnish the dips with a drizzle of olive oil and fresh herbs
Arrange all items on a large platter for guests
Prepare the salad by washing the veggies and romaine lettuce
Chop romaine lettuce and place in a large salad bowl
Top lettuce with chopped cucumber, quartered tomatoes, kalamata olives and cubed or crumbled feta
Garnish salad with fresh herbs
Prepare dressing by combining olive oil, red wine vinegar, 1/2 tbsp Greek seasoning and smashed garlic cloves – set dressing aside and wait to toss and dress salad until guests are ready to eat – do not pour garlic cloves on salad
Preheat the oven to 400F
Quarter or half the baby potatoes and toss in oil and greek seasoning
Cook on a lined baking sheet for 25 minutes, toss and cook for an additional 20 minutes
Toss cooked potatoes in lemon juice and fresh herbs
While the potatoes cook prepare skewers by sliding beef and chicken onto separate sets of skewers and discard the smashed garlic cloves
Cook skewers on a grill panover medium heat
Cook the chicken skewers for 12 minutes rotating every 2 minutes
Cook the steak skewers 8 minutes rotating every 2 minutes
Dress and toss the salad, serve the skewers on a platter, and serve the potatoes in a large bowl