It is possible to put together a simple Thanksgiving dinner menu, cook the whole meal in one day, and have everything taste delicious! Follow these steps to see how I set up my menu for the day and the timeline that I followed to make sure we had a simple, but tasty Thanksgiving meal!
Note: Some of the links on this page are affiliate links. If you do end up purchasing any of these recommended items, I will receive a small amount of commission. This helps me continue creating great recipes for all of you! Thank you for understanding that I would never recommend a product that I don't actually use and believe in.
Step 1, Choose your Thanksgiving dinner recipes
I wanted to keep my Thanksgiving dinner menu very simple so I stuck to the basics. I used some of my own recipes, but many are from other blogs.
I asked my guests to please bring alcohol and dessert to round out the menu.
Step 2, gather the ingredients
I got our 12.85 lb turkey from Butcher Box for free (promo available through November 17th). The rest of the ingredients were easy to grab from local grocery stores. I made sure to double check my ingredients first thing in the morning and sent Amy out with a list of anything that I missed.
Be sure to defrost your turkey a few days prior to cooking! It took our bird about two and a half days in the refrigerator to defrost. You should allow 24 hours of defrost time per 5 lbs of turkey.
Step 3, Plan it out
Beyond picking my recipes and gathering my ingredients there were a couple of other things that I did to prepare for cooking my simple Thanksgiving dinner. I chose which serving dishes I wanted to assign to each dish. I also figured out roughly how long it would take to cook each item so that I would have enough oven space and so that the turkey would be cooked in time.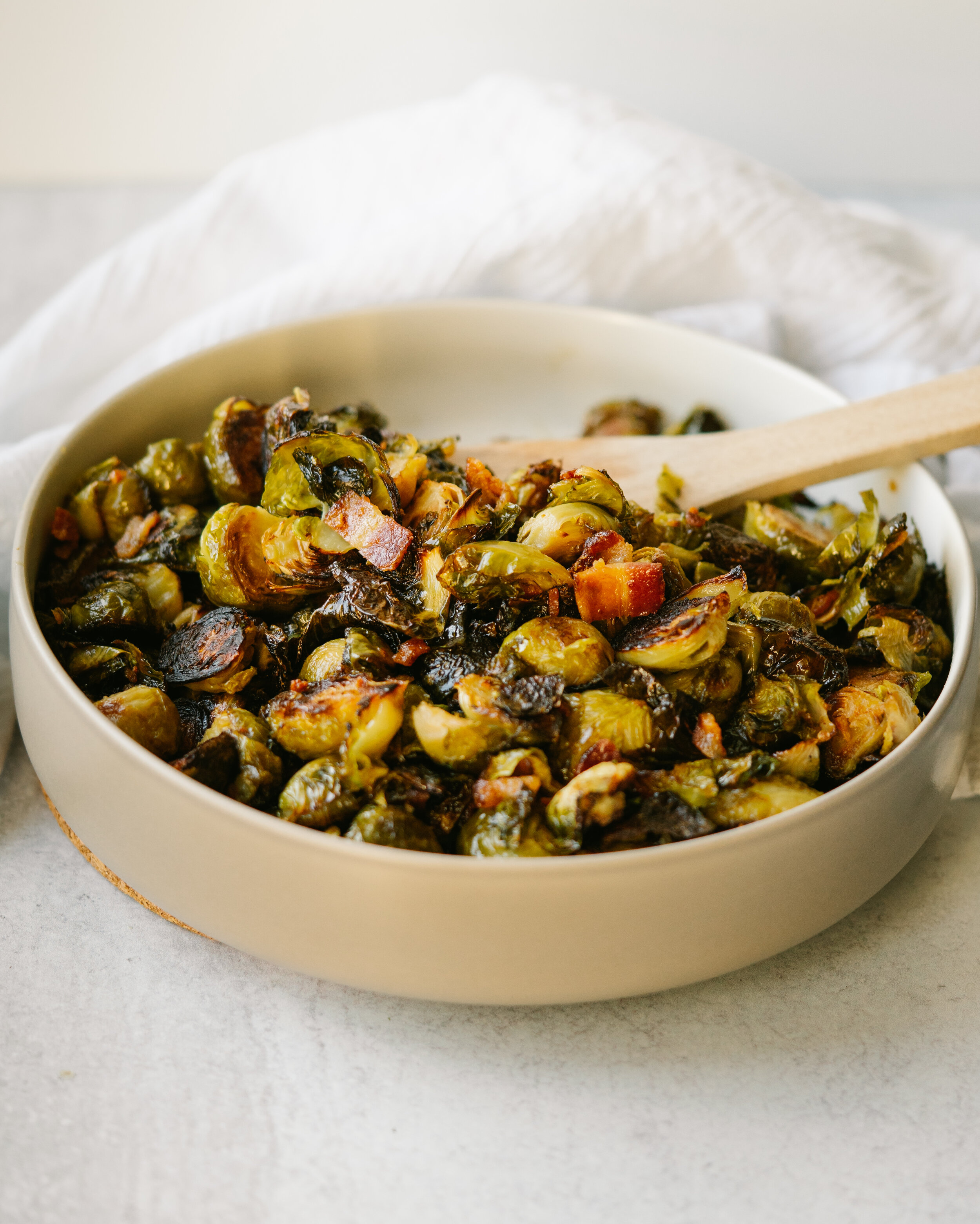 Step 4, cook the meal
The best way to show you guys how I made this meal is to share my timeline for the day.
8am – Cube the white bread for stuffing and place on a large baking tray. Double check for all ingredients.
8:30am – Pull the turkey out of the refrigerator and double check that it has thawed. Preheat oven to dry out bread for stuffing.
9am – Pop the stuffing in the oven to dry out.
9:30am – Prep the Brussels sprouts.
10am – Roast the Brussels sprouts in the oven
10:30am – Start cooking the mashed potatoes.
(Pancake break!)
12pm – Mashed potatoes are finished. Start prepping stuffing.
12:30pm – Stuffing into the oven.
1:15pm – Start cranberry sauce
1:20pm – Stuffing is finished. Start prepping turkey with herb butter.
1:50pm – Turkey into the oven.
2pm – Cranberry sauce is complete
(Shower break!)
3:20pm – Tent the turkey breasts with foil.
4:50pm – Take the turkey out of the oven to rest.
5pm – Prepare the gravy.
6pm – Carve the turkey.
6:30pm – Reheat the sides in the oven.
7pm – Eat dinner!
Step 5, enjoy!!!
The last step is pretty simple! Enjoy the meal that you slaved over all day. I hope this helps you plan for a simple and delicious Thanksgiving dinner with loved ones!