This post contains affiliate links.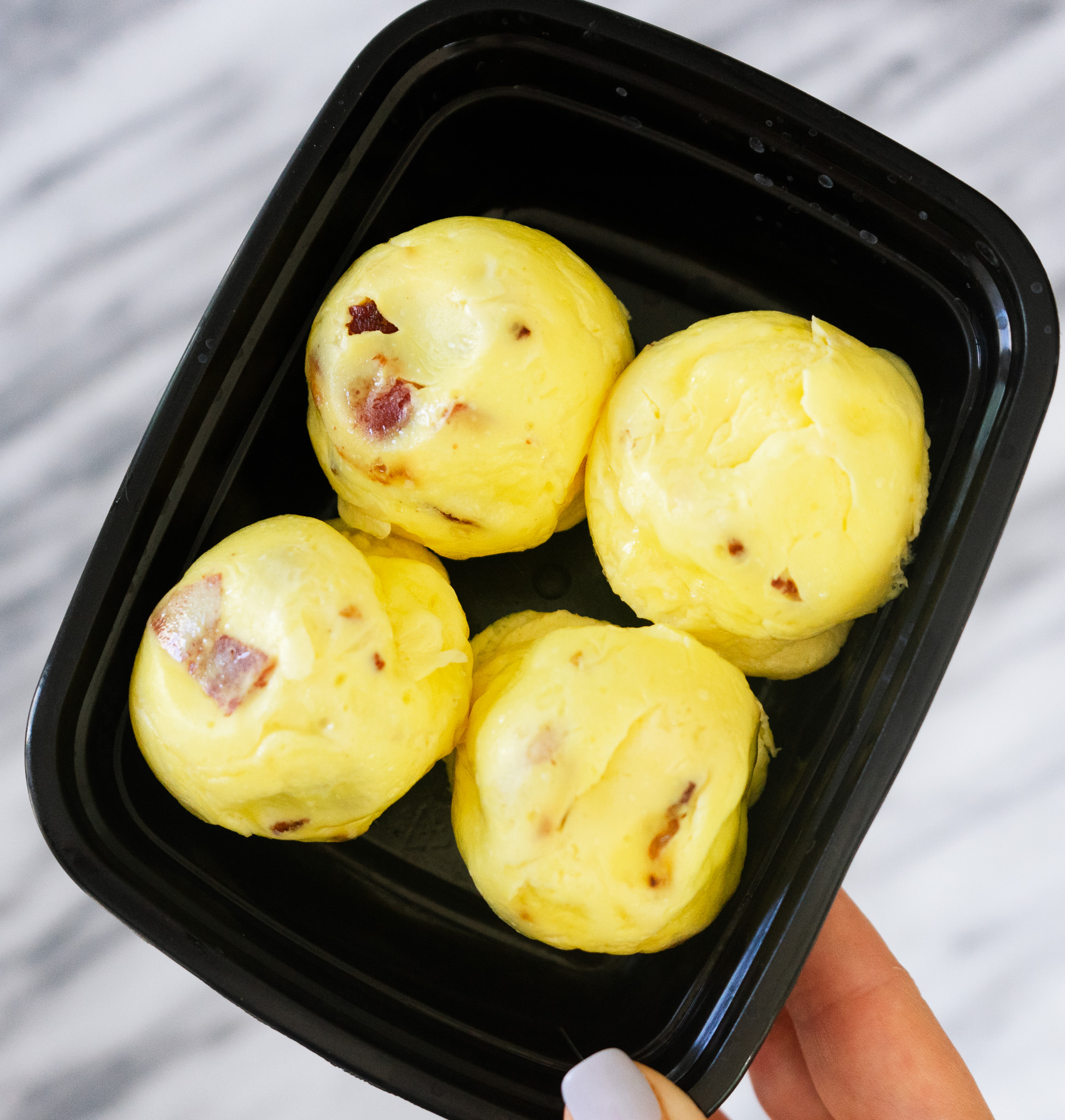 I've shared about this a lot on Instagram so some of you might already know that I really love the egg bites from Starbucks especially the bacon and gruyere ones. Something that I do NOT like is the price point of these bites at Starbucks. I set our to create some copycat Starbucks egg bites so that I could enjoy them at home at a lower price point!
At Starbucks they call their egg bites "Sous Vide Egg Bites" and I thought I could never make these at home because I don't yet have a sous vide machine. Then I was clicking around on Pinterest one day and found people were making these bites in their Instant Pots.
This was a total game changer for me because I LOVE my Instant Pot and I am always looking for new ways to use it beyond my obsession with shredded chicken in the Instant Pot. This is also a great recipe for your weekly meal prep.
Note: Some of the links on this page are affiliate links. If you do end up purchasing any of these recommended items, I will receive a small amount of commission. This helps me continue creating great recipes for all of you! Thank you for understanding that I would never recommend a product that I don't actually use and believe in.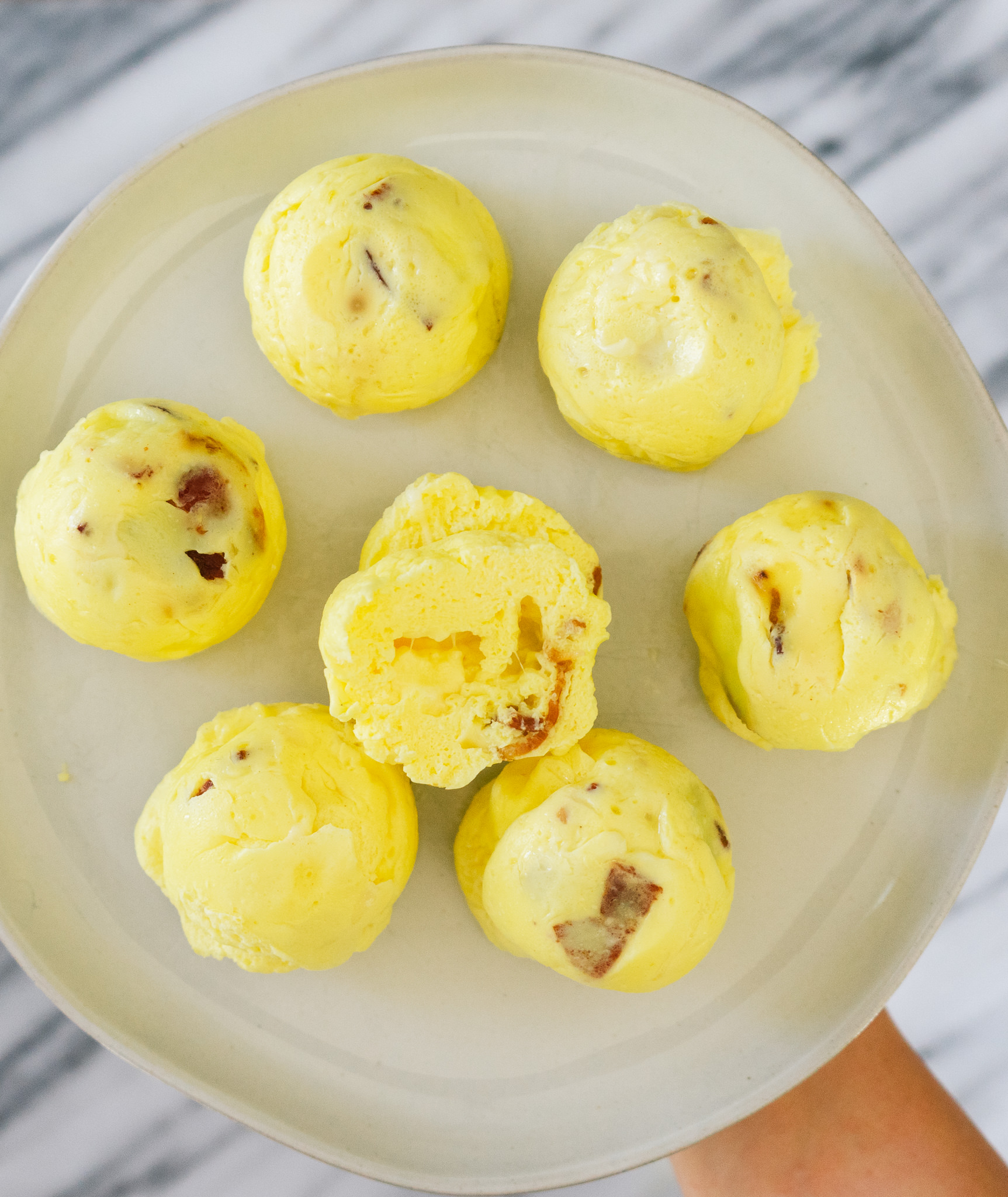 Like I said above, you will need an instant pot in order to make copycat Starbucks egg bites. An instant pot is definitely an investment, but it is quickly becoming one of my most used kitchen appliances. I love how easy it is to make things in half the time it takes on the stove top.
Beyond the instant pot, you will need a couple other pieces of kitchen equipment in order to throw these egg bites together. You will need a blender or food processor of some sort. You will also need these little silicone molds that are placed in the instant pot so that the eggs form into a little bite.
There are many options of molds on amazon, but I chose these ones because they come with an extra little trivet. You will see this as you keep reading and watch the recipe video, but the trivet is essential when cooking the bites.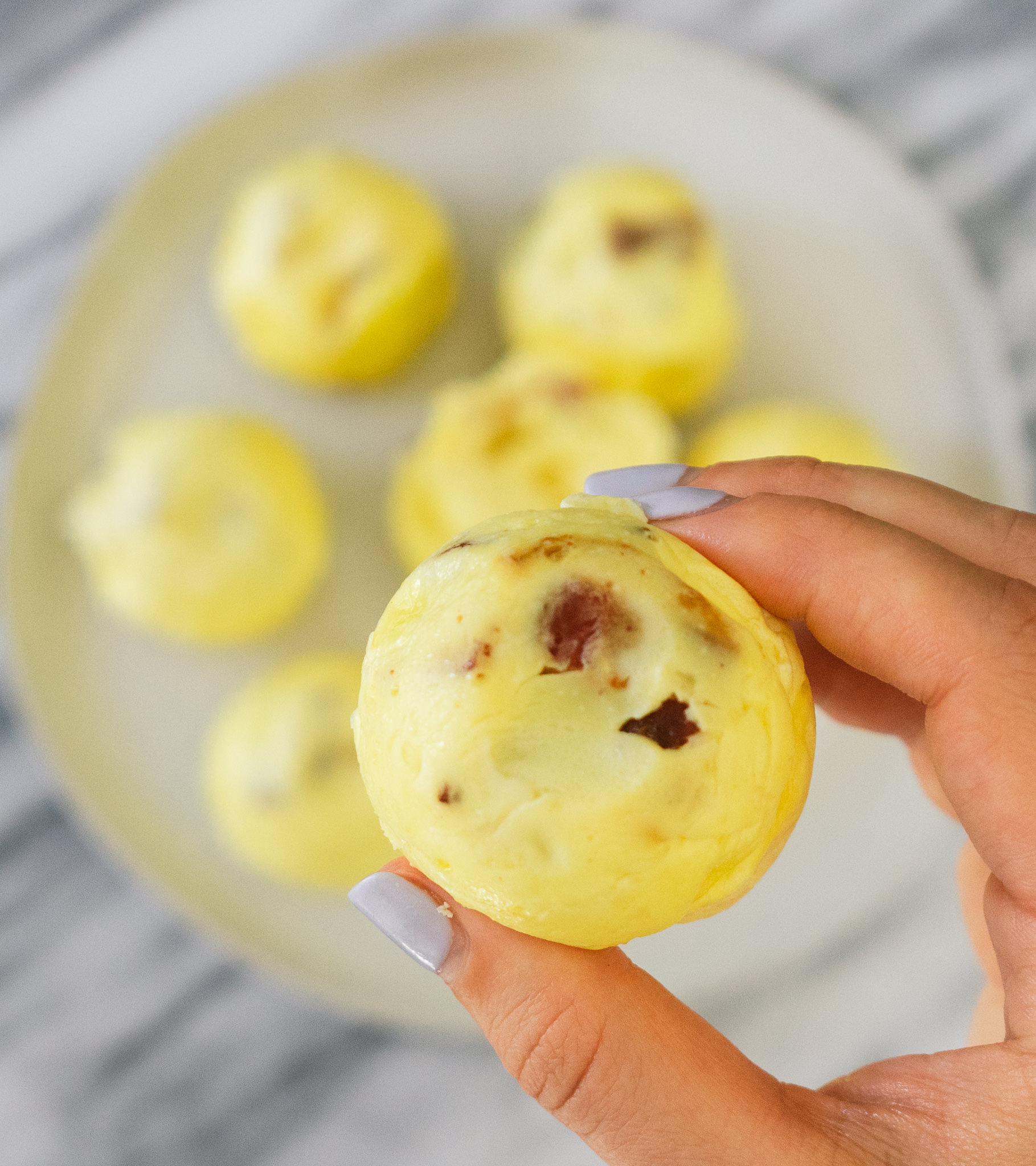 I put together a quick recipe tutorial video tutorial so you can see exactly how I make these copycat Starbucks egg bites.
A few things to note when making this recipe:
I do not cook the bacon until crispy. You will want it to be a litle softer than normal so that it bakes into the egg bite nicely

Be sure to blend the egg mixture fully. It can be tricky to get the cream cheese to blend up all the way

Make sure to set your instant pot to the steam setting instead of standard, manual cooking
Watch the video tutorial below to see exactly how I make these copycat Starbucks egg bites.
Instant Pot Instructions
To make these copycat Starbucks egg bites you will need 6 simple ingredients: bacon, eggs, cream cheese, heavy cream, salt and shredded gruyere cheese. Start by cooking the bacon in a frying pan. You will want the bacon to be fully cooked, but not too crispy.
Then add eggs, cream cheese, heavy cream and salt to a high speed blender or food processor. Combine until fully combined and smooth. Check and be sure that all of the cream cheese has been blended in.
Chop the bacon and place a few pieces in each cup of a silicone mold. Pour egg batter into the silicone molds as well. Finally sprinkle shredded Gruyere cheese into each egg cup as well.
Pour 1 cup of water into the instant pot. Lower the silicone mold into the instant pot on a trivet. Close the valve to sealing and set the instant pot to the steam setting for 10 minutes.
When the 10 minutes are up, manually release the pressure and open the instant pot. Allow the egg bites to cool for 5-10 minutes before removing from each mold. Enjoy immediately or store in an air tight container in the refrigerator for up to 5 days.
You can find the full recipe for copycat Starbucks egg bites down below. If you make these, please share that with me in the comments down below or on Instagram.
Stove Top Instructions
To make the egg bites on a stove top you will still need the silicone molds and a blender, but this time you will use a large soup pot to cook them. Prepare the egg batter by blending together the eggs, cream cheese, heavy cream and salt.
Pour 2 cups of water into the large soup pot and place the trivet that comes with the molds into the bottom of the pot. Place some bacon and cheese into each egg mold cup and pour batter on top. Carefully place the filled egg molds on top of the trivet.
Turn the heat on to high for about 3 minutes until the water boils. Cover the pot and reduce the heat to medium. Allow the egg bites to steam in the pot for 12 minutes.
Turn the heat off and remove the lid. Allow the egg bites to cool for at least 10 minutes. Remove the egg bites from the molds and enjoy!
Copycat Starbucks Egg Bites
prep time: 10 M
cook time: 20 M
total time: 30 M
ingredients:
3 strips of bacon
5 eggs
1/4 cup heavy cream
4 oz cream cheese – softened
1/2 tsp salt
1/2 cup shredded gruyere cheese
instructions:
How to cook Copycat Starbucks Egg Bites
Cook bacon until fully cooked, but not too crispy
Combine eggs, heavy cream, softened cream cheese and salt in a high-speed blender or food processor until fully combined – be sure the cream cheese gets completely mixed in
Take an instant pot trivet and place the silicone egg moldon the trivet
Place a few pieces of chopped bacon in each egg cup followed by the shredded gruyere cheese
Pour the egg batter into the silicone molds
Fill your instant pot with 1 cup of water and slowly lower the trivet with the egg mold on it into the instant pot
Close the instant pot and set the release valve to sealing
Set the instant pot on steam for 10 minutes
Once the 10 minutes are up, manually release the pressure and remove the lid
Allow the egg bites to cool down for at least 5 minutes before removing from the instant pot
Store in an airtight container in the refrigerator for up to 5 days