This post contains affiliate links.
For my fourth day of this grilling week I am sharing Grilled Caesar Salad with Homemade Dressing and I am going to put my little sister on blast because I'm pretty sure she never reads these anyway.
When my little sister was young, roughly 9 or 10 years old she was a picky eater who would eat odd things in her pickiness. At restaurants she would usually only order one of two things: a wedge salad or a grilled Caesar salad.
I am 7 years older than her and my 16 year old self could never wrap my head around why this kid who wouldn't eat pizza would chow down on a grilled Caesar salad. Well MJ I am here to eat my words because grilled Caesar salad is heavenly especially with homemade Caesar dressing and croutons.
Note: Some of the links on this page are affiliate links. If you do end up purchasing any of these recommended items, I will receive a small amount of commission. This helps me continue creating great recipes for all of you! Thank you for understanding that I would never recommend a product that I don't actually use and believe in.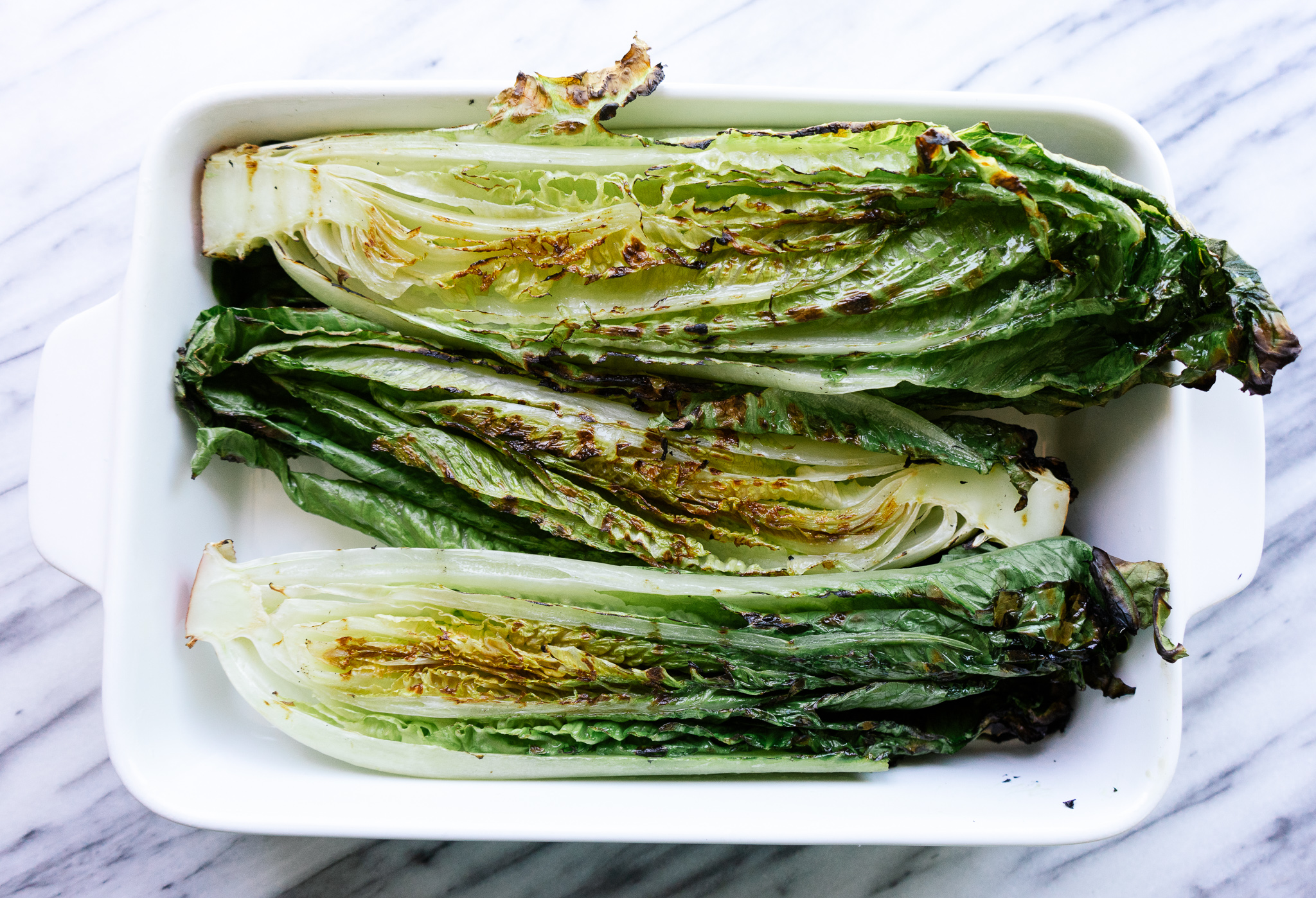 Let's talk about romaine lettuce for a minute, because romaine hearts are a key ingredient to grilled Caesar salad with homemade Caesar dressing. Romaine lettuce seems to take a back burner to mixed greens or kale these days, but I think we need to have a romaine renaissance.
I fell back in love with romaine when I first did Whole30 in January 2019. You eat a LOT of salads on the Whole30 so I was diligent about finding new ways to use my romaine lettuce that wasn't a sad desk lunch salad – even though my salads are never sad!
I used romaine to make some beef lettuce wraps and my favorite no bread turkey club. Now romaine is a staple item on my grocery list. I have at least a couple hearts in the fridge at all times.
Moving on from my love affair with romaine because the homemade Caesar dressing is really the star of this grilled Caesar salad.
Personal preference, but I had to leave the anchovies out of my dressing recipe. I know people will tell me that I can't taste them and they are just in it to add salty depth of flavor, but I CAN taste them. Even if its just in my mind.
To make my creamy homemade Caesar dressing you will need a few simple ingredients and an immersion blender. I use my immersion blending to make most of my sauces, dressings and mayos and no other kitchen tool compares.
Okay so fire up the grill and get ready to make this insanely easy grilled Caesar Salad. grab a few hearts of romaine and slice them in half. If the outer leaves seem wilted of are falling off, you should remove them before you begin to grill
Brush the romaine heart halves with oil and place on the grill cut side down for just a few minutes to get a nice char. Prepare the dressing and croutons and then assemble your grilled Caesar salads.
Drizzle the grilled romaine with Caesar dressing, top with a generous serving of parmesan cheese and croutons and enjoy! The full recipe is down below and if your try it out feel free to share with me on Instagram.
Grilled Caesar Salad with Homemade Dressing
prep time: 10 M
cook time: 10 M
total time: 20 M
ingredients:
Caesar Salad
2 hearts of romaine lettuce
2 large slices of stale bread
2 tbsp avocado oil
Salt and Pepper
1/2 cup shredded parmesan cheese
instructions:
How to cook Grilled Caesar Salad with Homemade Dressing
Prepare the dressing by placing all dressing ingredients except light olive oil in an immersion blender cup or a wide mouth jar
Pour light olive oil in on top of all other ingredients
Place immersion blender in the cup or jar and blend at the bottom and then slowly move up and down to incorporate oil
Moving slowly will emulsify the oil and make a thick fluffy dressing
Slice romaine lettuce hearts in half and cube the stale bread – be sure not to make these cubes too small, you will be grilling them!
Take a food brushand brush avocado oil all over the cut side of the romaine lettuce and on all sides of the cubed bread
Season the croutons on all sides with salt and pepper
Preheat a clean grill to medium-high heat
Place the romaine heart halves on the grill, cut side down and grill for about 4 minutes or until the leaves have a nice char – leave the grill top open
Place the bread cubes on the grill and cook for about 6 minutes rotating every 2 minutes or so
Assemble the Caesar salad by topping them with a drizzle of the homemade dressing, a sprinkle of parmesan cheese and grilled croutons
Best if enjoyed immediately!