This post contains affiliate links.
When creating new recipes for this blog I try to think about recipes that I could make over and over again for my family. Recipes that are tasty enough that we would enjoy them many times, but simple enough that they could go on a weekly or monthly rotation. This creamy tomato basil chicken recipe will certainly fit into the rotation. Did you have something like the growing up? Something that your parent made over and over again, but you never got sick of it? My own mother makes this soy and mustard sheet pan chicken that will never get old for me.
Note: Some of the links on this page are affiliate links. If you do end up purchasing any of these recommended items, I will receive a small amount of commission. This helps me continue creating great recipes for all of you! Thank you for understanding that I would never recommend a product that I don't actually use and believe in.
The beauty of this creamy tomato basil chicken dish, other than the fact that it is truly beautiful!! Is the fact that it works for lots of different dietary preferences. I can make this simple, creamy chicken dish when my girlfriend is eating low carb and she can simply have it alone or with some extra cheese! I can make it for a big group and pair it with a pot of pasta. I chose orecchiette this time around and it was perfect with this sauce. It got into all the little crevices and was just delectable.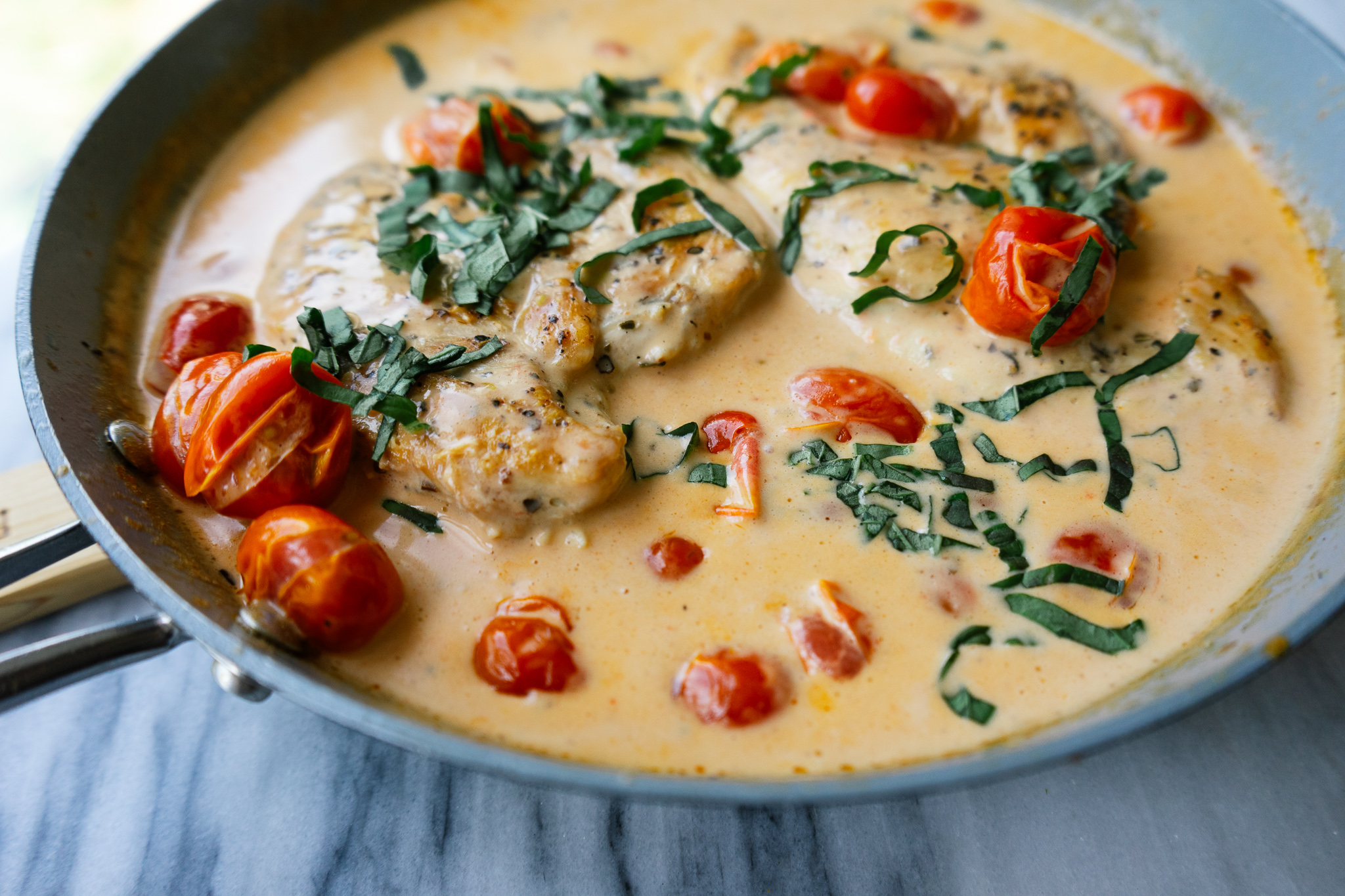 This creamy tomato basil chicken recipe will be one in a line of one pot, low carb recipes that I will be trying to perfect. I want my site to be a place where you can come for an endless list of 30 minute meals. BTW you can definitely get this on the table in 30 minutes because I tested this and photographed it before a flight and honestly amazed myself with the speed. I also want to make sure that I can turn all of my recipe ideas into a whole30 version (or most of them) so leave a comment below if there is a whole30/lowcarb/one pan meal that you would like to see!
To make this creamy tomato basil chicken you need 30 minutes and a few basic ingredients! The only kitchen tools that you will need are a large frying pan with a lid and a meat tenderizer. You will need to tenderize your chicken and season it. Then cook it up in a pan while you mix the sauce and cook your pasta. Remove the chicken from the pan and add the tomatoes to the pan to blister them. Mix in the sauce and simmer. Then return the chicken to the pan to warm through. Garnish with a big of fresh basil and you are good to go!! Please find the full instructions below and if you make this dish I would love for you to share your creations with me on Instagram!
Creamy Tomato Basil Chicken
prep time: 5 M
cook time: 25 M
total time: 30 M
ingredients:
2 boneless skinless chicken breasts
1/2 tsp salt
1/2 tsp pepper
1/2 tsp dried oregano
1 tbsp avocado oil
8 oz grape tomatoes
1 cup heavy cream
1/4 cup grated parmesan cheese
1 tbsp tomato paste
1/2 cup chicken broth
1/4 cup water
1 tsp tapioca starch
Fresh basil leaves
Optional: 1 lb pasta
instructions:
How to cook Creamy Tomato Basil Chicken
Tenderize chicken breasts by pounding them to half thickness with ameat tenderizer
Season chicken breast on both sides with salt, pepper and dried oregano
Heat avocado oil in a large frying pan over medium heat
When oil is hot, add the seasoned chicken to the pan and cook on medium for 5 minutes each side
Remove chicken from pan and add cherry tomatoes to the pan whole and season with salt and pepper
Cover and cook on medium-low for 6 minutes
While they cook, whisk together cream, cheese, tomato paste, and chicken broth
After 6 minutes the cherry tomatoes should begin to burst. Smash them down with a potato masher or a fork
Pour the liquid mixture into the pan and increase the heat until it comes to a boil
Reduce to a simmer. Combine tapioca starch and water in a small bowl and add to the simmering sauce to thicken
Place chicken back in the pot and cover with sauce and tomatoes and simmer for 3 minutes or until chicken is warmed through
Garnish with fresh basil and serve on its own, with cauliflower rice, rice or pasta!