This post contains affiliate links.
I have not been shy about this fact on my Instagram stories… I used to hate chia seed pudding, until I had this Whole30 Strawberry Chia Seed Pudding. Something about the taste and texture did not appeal to me, but when I decided to develop this whole30 friendly recipe something changed.
This Whole30 strawberry chia seed pudding is a simple Whole30 friendly breakfast or snack that you can prep once and then enjoy all week long. I think I like this one better than previous options because there is no added sugar. The sweetness in this pudding comes straight from the fresh strawberries.
I use fresh strawberries two ways in this recipe: I blend it with the almond milk that the chia seeds are soaked in AND I use them to line the bottom of the jars I use to prep these. I was able to get 6 prepped jars out of this one recipe.
Note: Some of the links on this page are affiliate links. If you do end up purchasing any of these recommended items, I will receive a small amount of commission. This helps me continue creating great recipes for all of you! Thank you for understanding that I would never recommend a product that I don't actually use and believe in.
I think part of my disdain for chia seeds may have been how they look. They aren't the most appetizing little things, but I did learn of something that can help that! You can buy white chia seeds that make this a little more visually appealing.
If you are stuck on the texture of chia seed pudding like I once was, you can try making this Whole30 strawberry chia seed pudding another way by blending the seeds into the almond milk before you allow it to set in the fridge and become pudding. That way you won't have the individual seed issue.
If you love chia seed pudding and all those little tips are irrelevant, then you are in the right place. This recipe for Whole30 strawberry chia seed pudding is sure to delight you.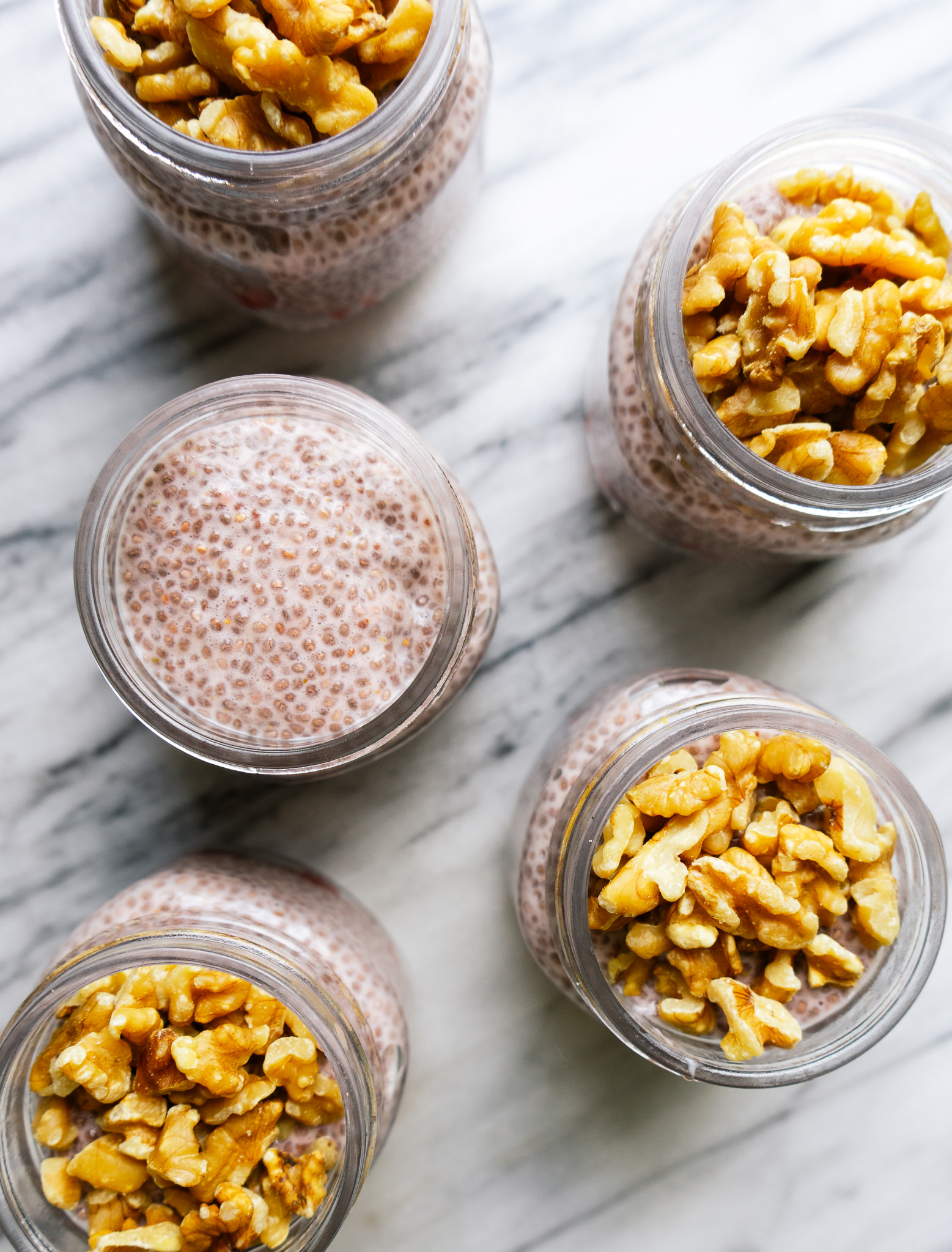 Prep your pudding ahead of time and enjoy all week!
The hardest thing about making this Whole30 strawberry chia seed pudding is making sure you allow it enough time to set and become pudding. There are 2 easy ways to ensure this happens.
First, you can make it at night and leave it in the fridge overnight so that you are ready to assemble your parfaits in the morning. The second way to time this is to stir your ingredients together at the beginning of a cooking or meal prep session and then after 2 hours of chilling in the fridge, the pudding will be ready.
The ingredients you will need to make this Whole30 strawberry chia seed pudding are chia seeds, almond milk – I like Pacific unsweetened almond milk, fresh strawberries and walnuts or any kind of nut you like. If you are on the Whole30 be sure your nuts and nut milks are made with all compliant ingredients.
I used a simple mixing bowl and a whisk to make sure my ingredients were mixed together. Once I was ready to assemble my jars of pudding I used these cute little 1/2 pint glass jars. It makes them look more appealing and convenient to take on the go.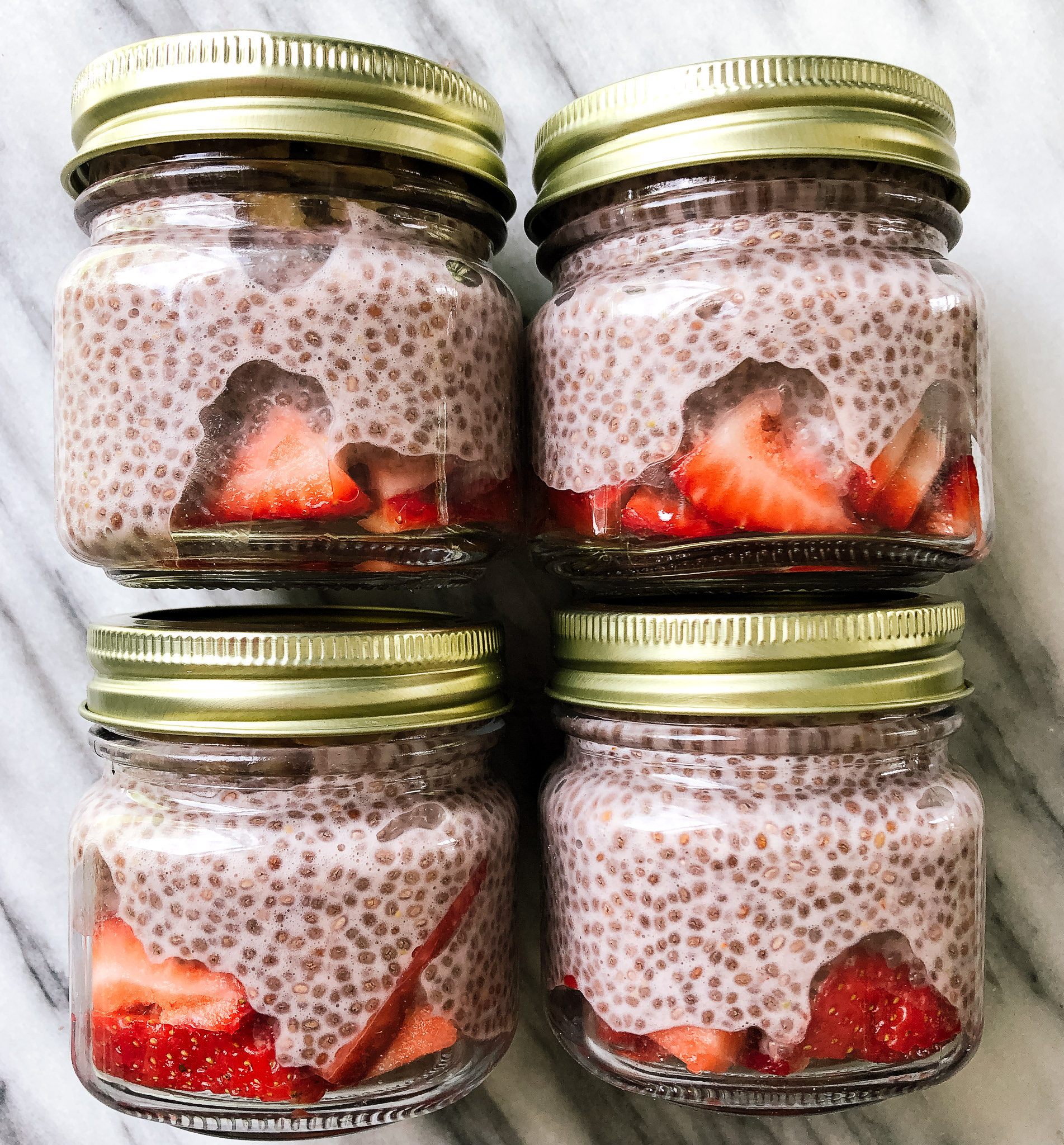 Let's make some Whole30 Strawberry Chia Seed Pudding!
It seriously could not be easier to make this Whole30 strawberry chia seed putting. Start by taking 2 cups of strawberries and slicing them. Place 1 cup of the strawberries and 3 cups of unsweetened almond milk in a high speed blender and blend until strawberries are completely mixed in.
Pour chia seeds into a large mixing bowl with the strawberry and almond milk mixture and mix thoroughly. Allow the mixture to sit on the counter for 10 minutes and then mix again. Place the bowl in the fridge and allow it to chill for at least 2 hours and up to overnight.
Remove the pudding from the fridge and assemble little parfaits. Place the remainder of the sliced strawberries in little containers or jars. Top with chia seed pudding and then sliced walnuts on top of that.
Store the parfaits in air tight containers in the fridge for up to 7 days. Keep reading to find the whole recipe. As always, if you make this recipe, please let me know in the comments or on Instagram!
Whole30 Strawberry Chia Seed Pudding
prep time: 15 M
cook time: 2 hour
total time: 2 H & 15 M
instructions:
How to cook Whole30 Strawberry Chia Seed Pudding
Blend almond milk and 1 cup strawberries in a high-speed blender
Combine chia seeds and strawberry and almond milk mixture in a large bowl with a whisk – be sure to combine thoroughly
Allow the mixture to sit on the counter for 10 minutes and mix again thoroughly
Cover the bowl and place in the fridge for at least 2 hours
Put together small parfaits in 1/2 pint jars with strawberries on the bottom, chia seed pudding on top and finally chopped walnuts – should make at least 6 jars
Store in airtight containers in the fridge for up to 7 days