This post contains affiliate links.
Sweet potato and sausage curry soup is a comforting winter soup loaded with the flavorful spices of a curry. This healthy Whole30 soup comes together in less than an hour and can be enjoyed throughout the week!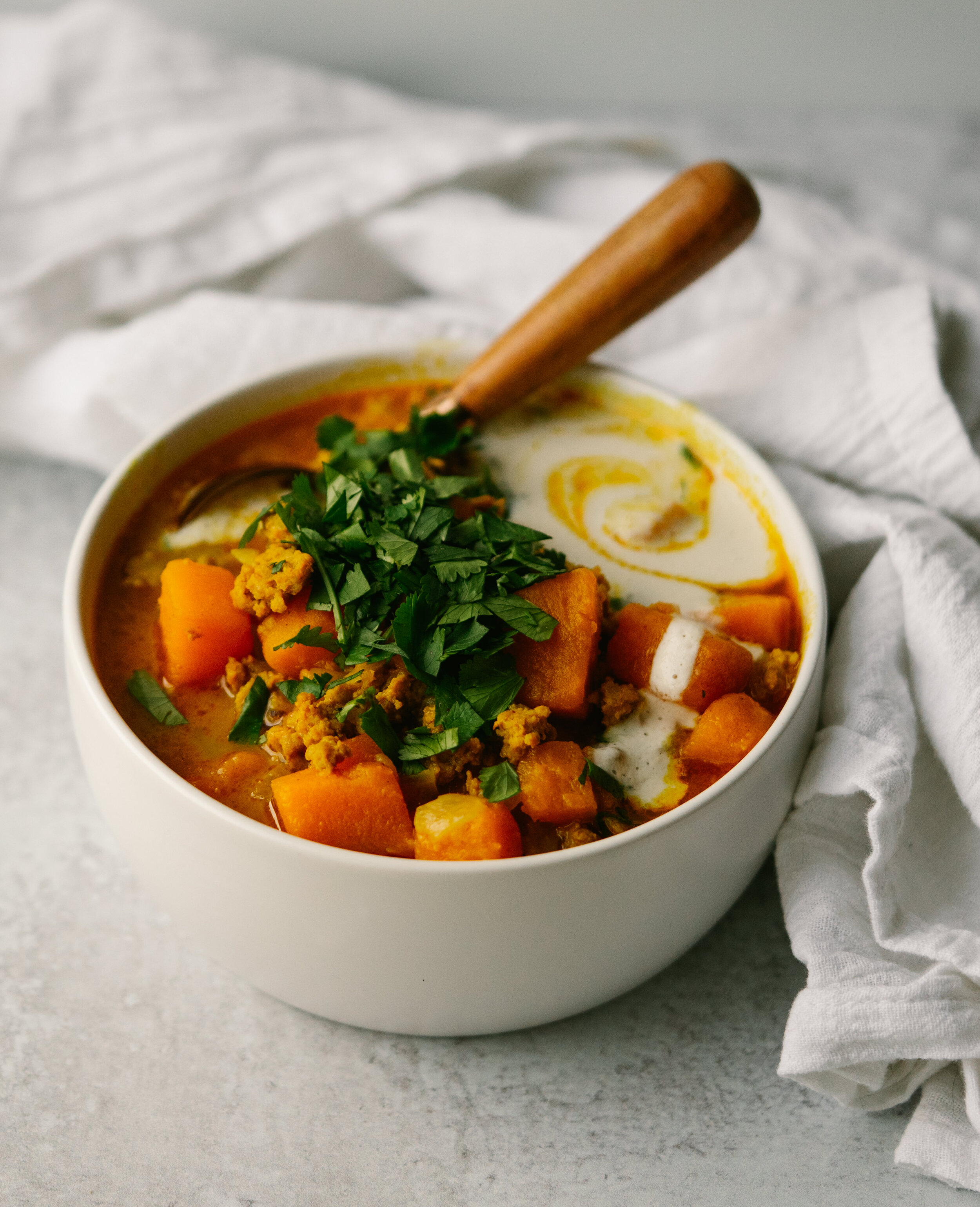 Note: Some of the links on this page are affiliate links. If you do end up purchasing any of these recommended items, I will receive a small amount of commission. This helps me continue creating great recipes for all of you! Thank you for understanding that I would never recommend a product that I don't actually use and believe in.
Another healthy Whole30 soup!
My love for soup grows every day especially with recipes like this sweet potato and sausage curry soup. I love all of the flavors of a curry so it only made sense to throw them into soup! The best part is that this soup is LOADED with hearty ingredients so that it is a satisfying Whole30 meal.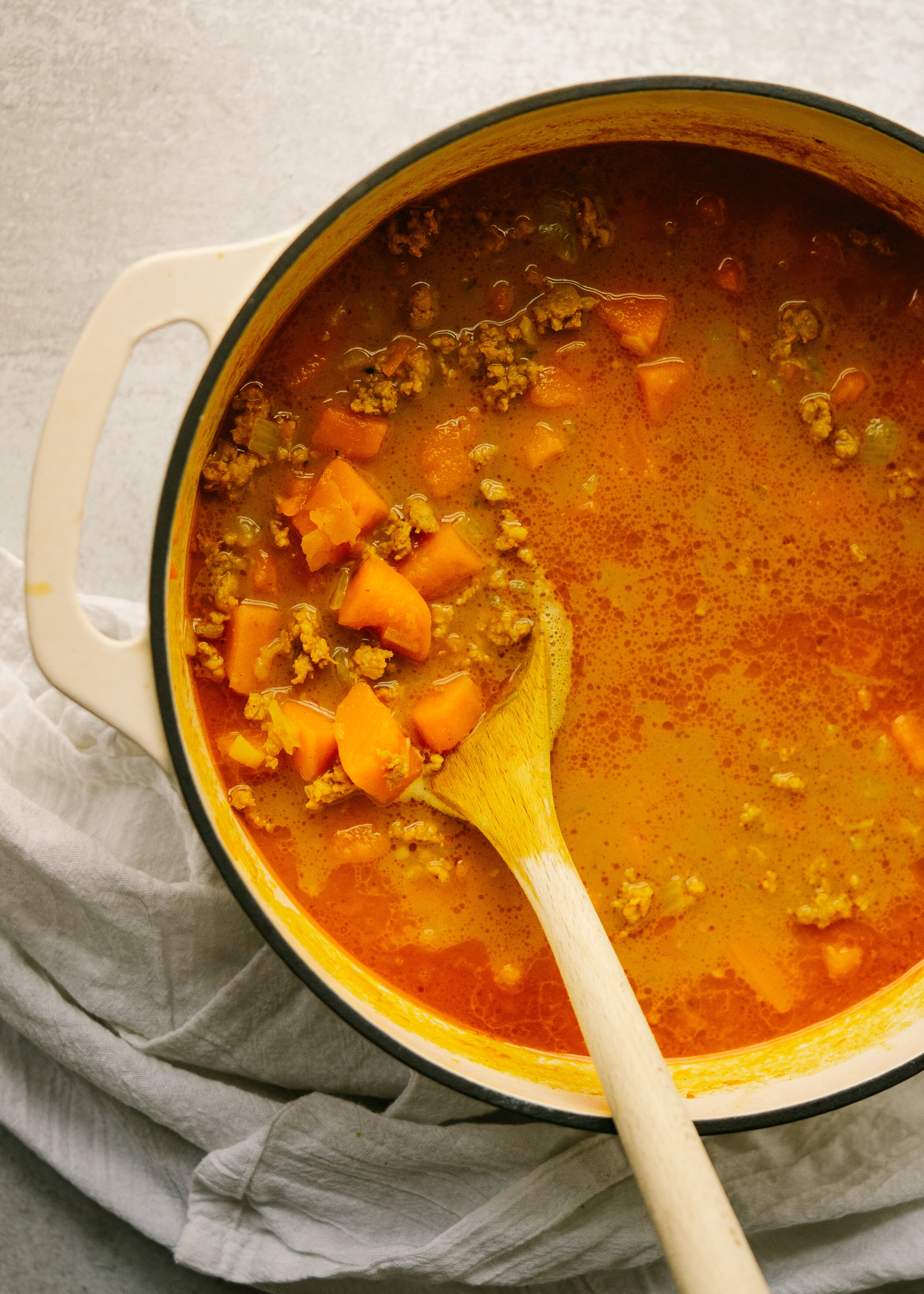 What kitchen tools do you need to make this Sweet potato and sausage soup?
I love how easy it is to make this healthy Whole30 soup. You do not need any fancy gadgets to put this together in less than an hour. You will need a vegetable peeler and a sharp knife for preparing your ingredients.
Other than that you will need a large stockpot or dutch oven. I have been making all of my soups in this dutch oven this fall and I LOVE it.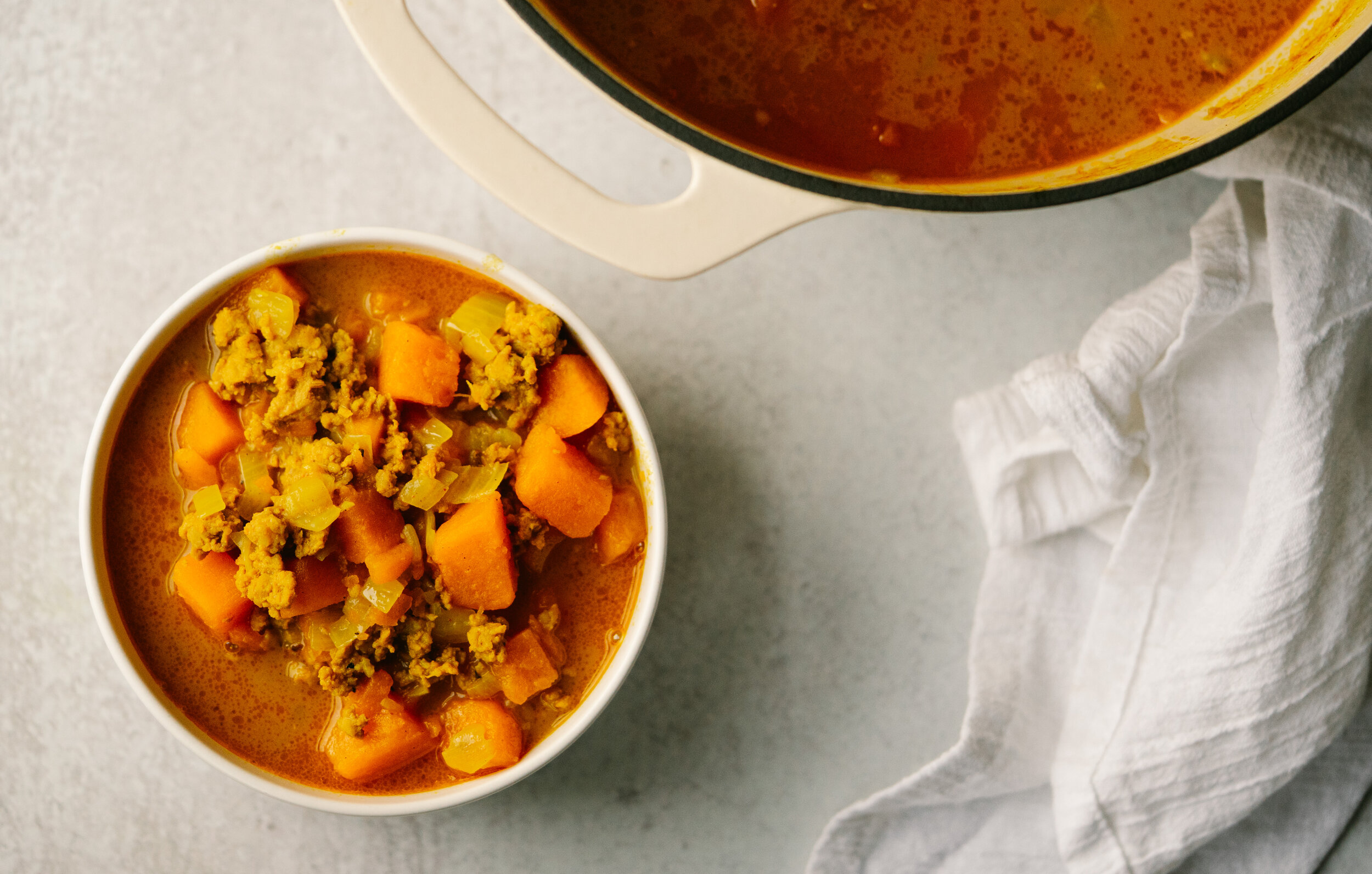 What ingredients do you need to make this hearty winter soup?
Garlic cloves

Yellow onion

Sweet potatoes

Ground pork

Coconut milk

Vegetable broth

Water

LOTS of spices!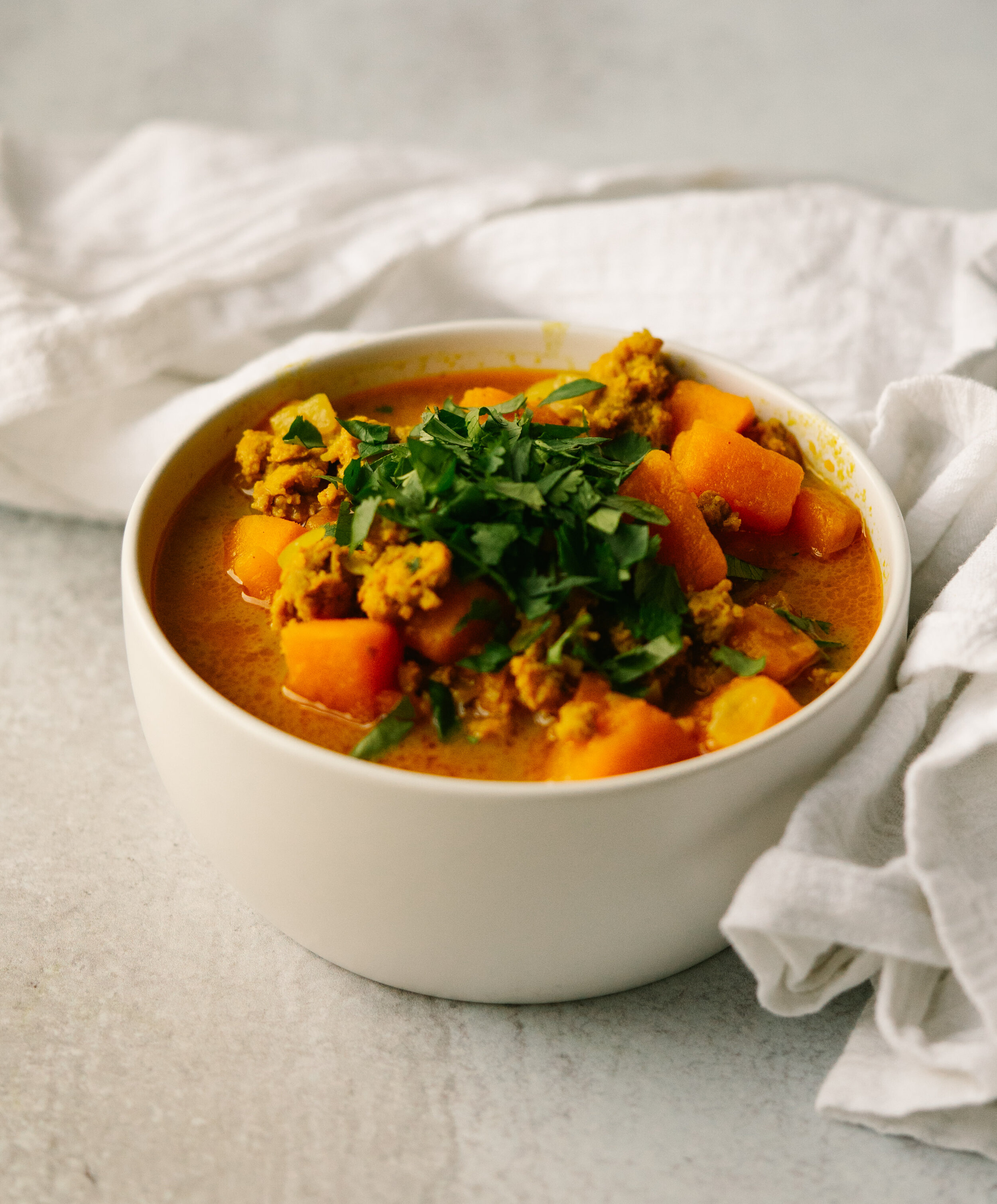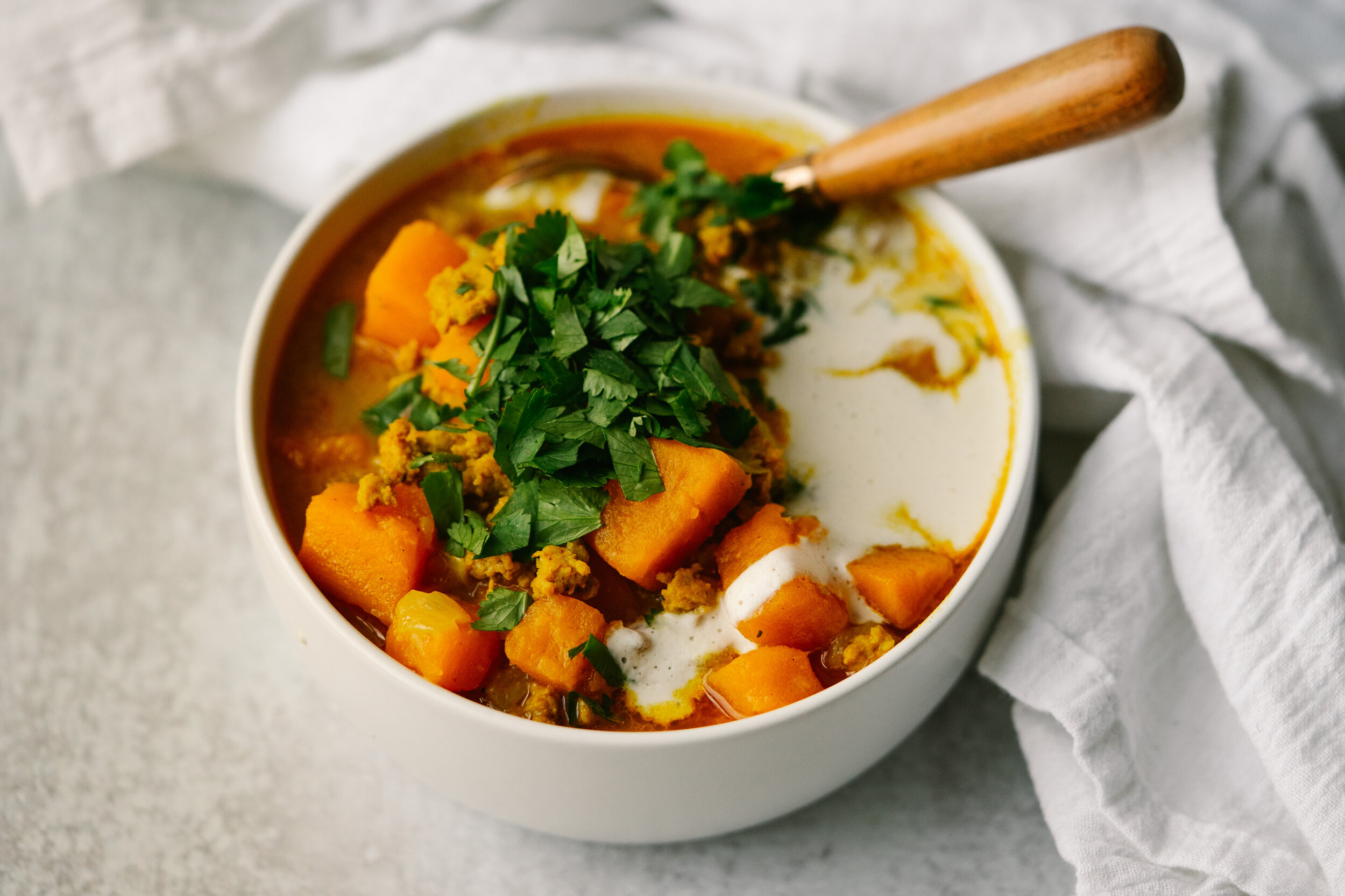 Let's make a delicious and healthy sweet potato soup!
Step 1 – Dice
Prepare your ingredients. Peel and cube sweet potatoes, dice the onion and mince the garlic.
Step 2 – sauté and Brown
Heat the dutch oven over medium-low heat. Add the oil, onion, and garlic. Saute until soft and fragrant. Add the ground pork to the pan and brown the pork. Finally, add the spice mixture to the pan and stir it in completely.
Step 3 – Simmer
Add sweet potatoes, vegetable broth, coconut milk, and water to the pot and stir gently. Bring the soup to a boil. Reduce the heat to a simmer. Cover the pot and simmer for 20 minutes.
Step 4 – Enjoy!
Allow the soup to cool slightly, garnish with fresh cilantro and enjoy!
Can I just use curry powder?
YES! The seasonings that I listed here are very similar to a curry powder mixture. You can use about 2 tbsp of curry powder and some extra salt.
Can I freeze this sweet potato and sausage soup?
Yes! Allow the soup to cool fully and then store in airtight containers with a little extra space. Soup will keep in the freezer for up to 3 months.
Keep reading to find the full recipe for this easy, delicious, and healthy Whole30 soup! If you make this sweet potato and sausage curry soup please let me know in the comments or on Instagram!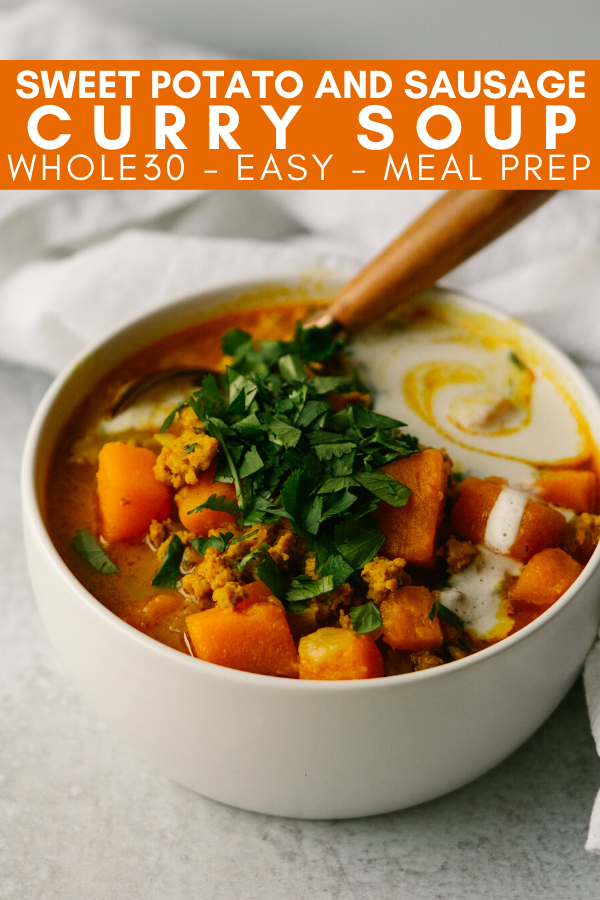 Sweet Potato and Sausage Curry Soup
prep time: 5 M
cook time: 40 M
total time: 45 M
ingredients:
2 tbsp avocado oil
4 cloves of garlic
1 large yellow onion
16oz ground pork
2 tsp salt
1 tsp ground ginger
2 tsp turmeric
1 tsp cumin
1/2 tsp cinnamon
1 tsp chili powder
1 tsp black pepper
2 medium sweet potatoes
1 can coconut milk
4 cups vegetable broth
1 cup water
instructions:
How to cook Sweet Potato and Sausage Curry Soup
Dice the yellow onion and mince the garlic cloves
Peel and cube sweet potatoes into bite-sized cubes
Add avocado oil, onion, and garlic to a large stockpot or dutch oven over medium-low heat
Heat the onions and garlic for 3-4 minutes tossing frequently
Increase the heat to medium and add the ground pork to the pan
Cook and brown the pork and break up into small crumbles for about 5 minutes
Combine salt, ginger, turmeric, cumin, cinnamon, chili powder, and pepper in a small bowl and add spice mixture to the pot
Mix spice mixture into ground pork, onions, and garlic
Add cubed sweet potato, coconut milk, vegetable broth, and water to the pot stir gently and increase the heat to high
Allow the soup to come to a boil – stirring frequently
Once boiling reduce the heat to a simmer and cover the pot
Allow the soup to simmer covered for 20 minutes and then remove from heat
Allow to cool slightly and then enjoy! Soup will keep in the refrigerator for up to 4 days or longer in the freezer