This post contains affiliate links.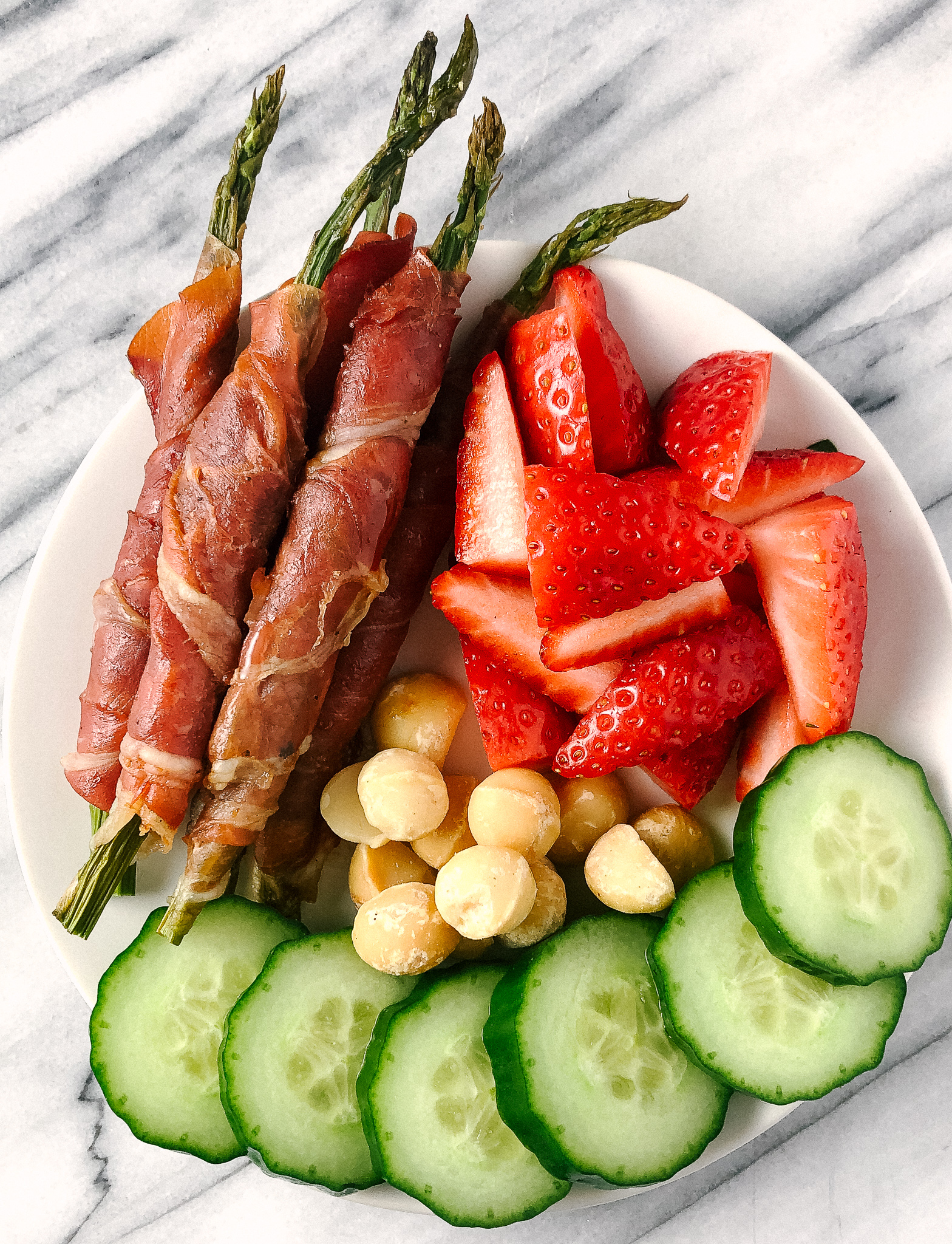 Finding a snack that everyone in your house can agree on? I would say that it is a HUGE accomplishment. Especially in my family where there are some doing Whole30, some keto-ers and some just eating whatever.
I am happy to report that these prosciutto wrapped asparagus satisfy every person in the group. When my mom makes them she adds an extra layer of cream cheese and that is absolutely to die for, but i left it out this time around so that these prosciutto wrapped asparagus are Whole30 and Paleo compliant!
These prosciutto wrapped asparagus are the kind of low carb appetizer that make you look super fancy, but they are actually so easy to make. Grab a few simple ingredients, a sheet pan and get ready to WOW your friends and party guests.
Note: Some of the links on this page are affiliate links. If you do end up purchasing any of these recommended items, I will receive a small amount of commission. This helps me continue creating great recipes for all of you! Thank you for understanding that I would never recommend a product that I don't actually use and believe in.
Like I said these prosciutto wrapped asparagus are very simple to make. The method for making them might seem pretty self explanatory, but whenever I post them on a charcuterie or snack plate on my Instagram I get tons of questions! So here you have it.
The ingredients you will need are just asparagus, prosciutto and oil. I like to use avocado oil, but any oil will work. When buying your prosciutto be sure to check that the ingredients are Whole30 compliant if you are on the Whole30.
I wanted you all to know just how quick and easy it is to make these prosciutto wrapped asparagus so I included a little tutorial video below. In the video you can see exactly how I assemble them. If you aren't on the Whole30 and you eat dairy you can add a swipe of cream cheese to the prosciutto before wrapping it around the asparagus.
To make prosciutto wrapped asparagus start by preheating the oven to 400F. Then wash and trim the asparagus. If your asparagus is particularly thick you may want to peel them slightly to make them a little thinner. Next drizzle with asparagus with avocado oil and season them with pepper.
Finally, wrap in the prosciutto, place on a parchment lined baking sheet and pop them in the oven! I avoid salting my asparagus before they are wrapped because prosciutto is naturally very salty and the double salt could become overwhelming.
Bake the prosciutto wrapped asparagus in the oven for 30 minutes – more or less depending on the asparagus thickness. Remove from the oven and enjoy!
My favorite way to serve these prosciutto wrapped asparagus is to make them a part of a charcuterie board or snack plate. If you are participating in Whole30 these go perfectly with some fresh fruit and macadamia nuts! Otherwise I would pair them with any of your favorite meats, cheeses and cheese board fixings.
I also like to bring them in my lunch as a mid afternoon snack. The hit of salty protein is just enough to satisfy me and hold me over for dinner. Anyway you enjoy them, these prosciutto wrapped asparagus are bound to be a hit with your family!
You can find the full instructions for making these prosciutto wrapped asparagus down below. As always, if you make this recipe and enjoy it, please let me know in the comments or on Instagram!
Prosciutto Wrapped Asparagus
prep time: 10 mins
cook time: 30 mins
total time: 40 mins
ingredients:
20 stalks of asparagus
20 pieces of prosciutto – for whole30 check for ingredients
1 tbsp avocado oil
1 tsp fresh cracked black pepper
instructions:
Preheat oven to 400F
Wash and trim asparagus stalks
Drizzle with avocado oil
Season with fresh cracked black pepper
Wrap each asparagus stalk in a piece of prosciutto
Place each piece on a parchment paper lined baking sheet
Bake at 400F for 30 minutes
Enjoy immediately or save for a quick lunchbox snack!