This post contains affiliate links.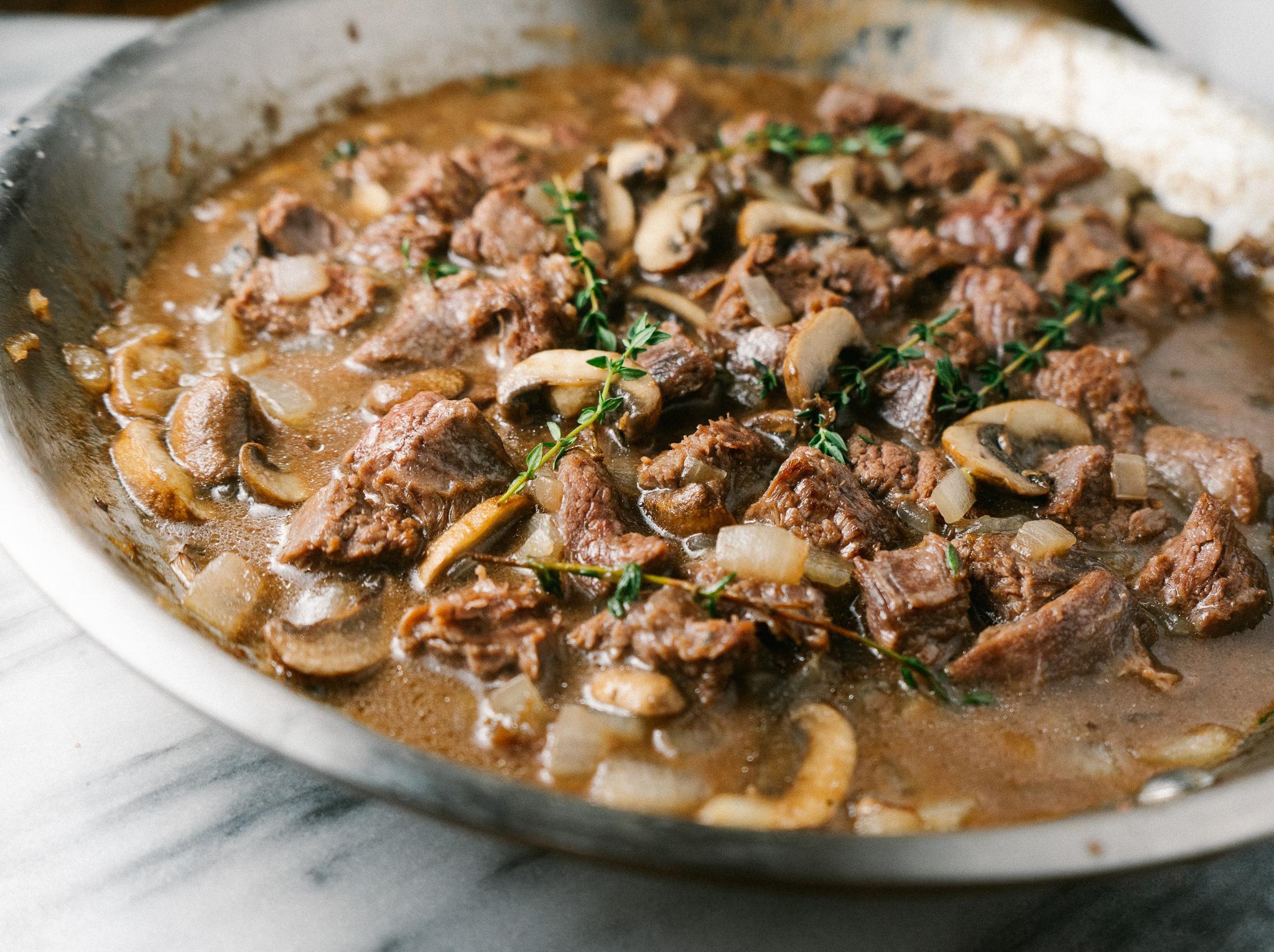 I walk a tricky line on Sunday afternoons and evenings between wanting all of the cozy comfort foods AND wanting to feel my best on a Monday morning. Luckily this beef and mushroom with cauliflower mash dish brings me the best of both worlds. It's hard for me to know when my food is actually delicious and when I am just being biased, but I tasted this beef and mushroom dish and immediately said, "WOW this is good!" Thankfully my taste tester agreed and I hope that you all will too!
Note: Some of the links on this page are affiliate links. If you do end up purchasing any of these recommended items, I will receive a small amount of commission. This helps me continue creating great recipes for all of you! Thank you for understanding that I would never recommend a product that I don't actually use and believe in.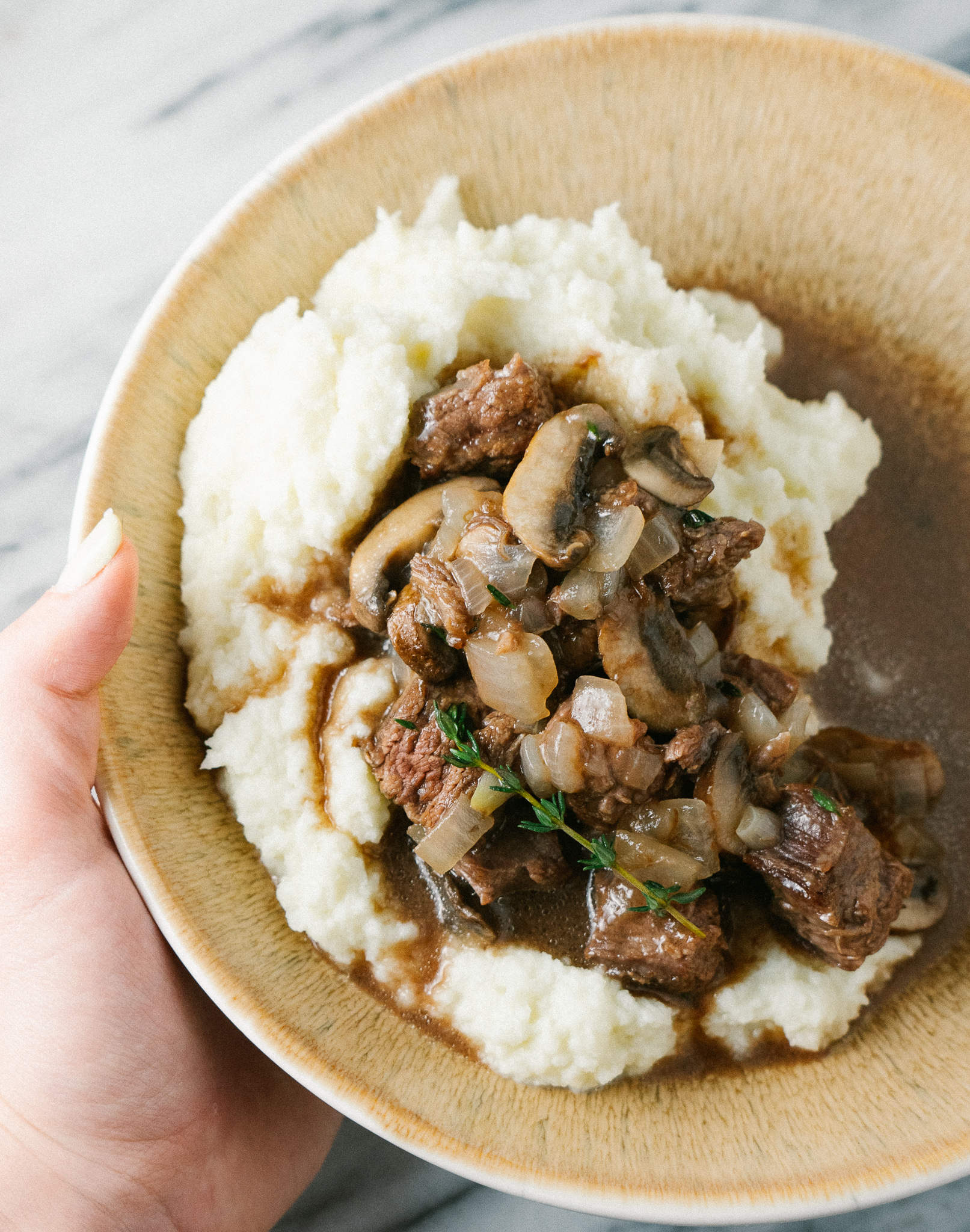 You might think that the beef and beef broth are the star of the show in this beef and mushrooms with cauliflower mash dish, but don't sleep on the cauliflower mash!! Ever since doing the Whole30 in January, my girlfriend and I have been converted from mashed potatoes to mashed califlower. Its easier to make, so creamy and doesn't leave me feeling Like I have a bowling ball in my stomach after I eat. When we are not following a Whole30 in this house we make it with salt, butter and heavy cream. If we are following a Whole30 we use salt, ghee and almond milk! Both ways are delicious, but definitely something to note for my Whole30 friends.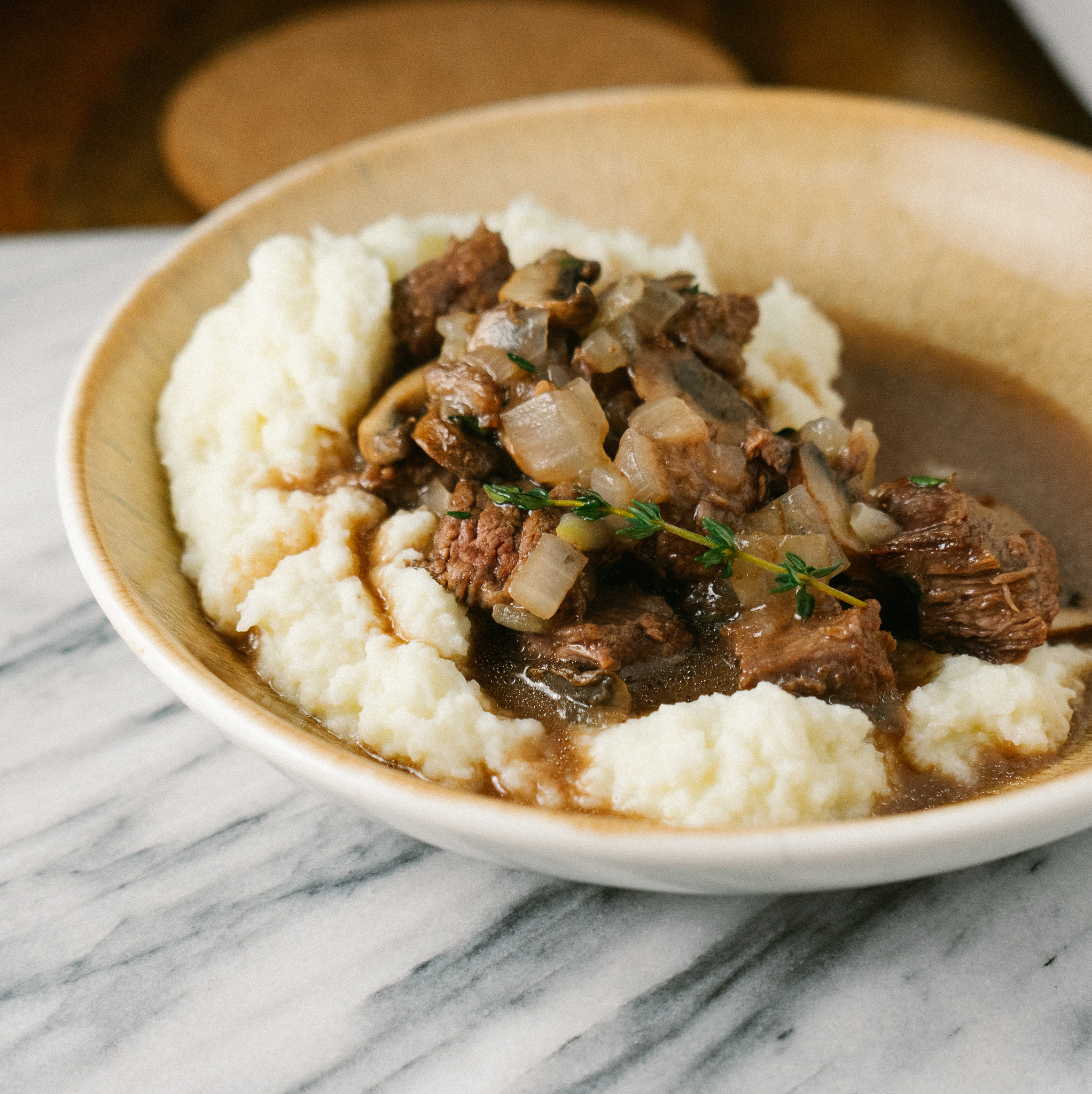 This beef and mushroom with cauliflower mash dish honestly looks harder to throw together than it actually is. For me this came together in less than 30 minutes which is the kind of thing I need when that evening hanger starts to set in!! To make this comforting meal just take your flank steak and tenderize it. Then season on both sides and cube the meat. Toss the meat in tapioca flour and set aside. Cut your cauliflower into florets and steam in its own pot. Slice the mushroom and onions. Heat some oil over medium and add the flank steak to the pan. Cook the flank steak for about 5 minutes. Remove from the pan and add the mushrooms, onion and a splash of beef broth. Allow the veggies to soften, then add the remainder of the beef broth, the beef and a few sprigs of thyme. Simmer for a few minutes to allow the flavors to combine and sauce to thicken. While this is simmering add cream and butter to steamed cauliflower and blend in the pot with an immersion blender. Serve beef warm with sauce over cauliflower mash!
You can find the full recipe down below and, as always, if you make this dish, please share your version with me on Instagram!
Steak and Mushroom with Cauliflower Mash
prep time: 10 M
cook time: 10 M
total time: 20 M
ingredients:
Steak and Mushrooms
1.5 lb flank steak
1 tbsp tapioca flour
2 tbsp avocado oil
8oz baby bella mushrooms
1 yellow onion
1 cup beef broth
4-5 sprigs of fresh thyme
Salt and pepper
instructions:
How to cook Steak and Mushroom with Cauliflower Mash
Tenderize flank steak by pounding with a meat tenderizer and season the steak liberally with salt on both sides
Slice mushrooms, dice the onion and cut the cauliflower into florets
Cut steak into bite size pieces and toss in a mixing bowl with tapioca flour until each piece is coated
Heat avocado oil in a large frying pan over medium heat
When the oil is warm add steak to the pan. Cook over medium for 5 minutes tossing occasionally
Steam the cauliflower florets in a separate pan for 10 minutes or until very tender
Remove steak from the pan but leave the pan on the heat and add onions, mushrooms, season with salt and pepper and a couple of tablespoons of beef broth
Cook the mushrooms and onions over medium heat for 5 minutes
Return the steak to the pan with the mushrooms and onions and pour in the rest of the cup of beef broth
Increase the heat to medium-high, add a few sprigs of fresh thyme to the pan and allow some of the beef broth liquid to reduce and make a sauce – cook for about 5 minutes
While that is simmering, remove excess liquid from steamed cauliflower and add butter and cream (ghee and almond milk if Whole30) plus salt to the warm steamed cauliflower
Stick an immersion blender in the pot and blend the cauliflower into a creamy mash
Serve the beef and mushrooms over the mash for a delicious, low carb meal!