This post contains affiliate links.
Move over Chipotle! This Whole30 Instant Pot barbacoa beef is deliciously tender and loaded with flavor. This healthy and easy Whole30 Instant Pot recipe can be prepared once and enjoyed in tacos or burrito bowls all week!
Note: Some of the links on this page are affiliate links. If you do end up purchasing any of these recommended items, I will receive a small amount of commission. This helps me continue creating great recipes for all of you! Thank you for understanding that I would never recommend a product that I don't actually use and believe in.
How do I cook this large cut of beef?
Have you ever asked yourself this question? I certainly did when I got a few large bottom roasts in my Butcher Box order. I wasn't sure the best way to cook them until Amy suggested barbacoa beef.
I took my large cut of beef and made this healthy and delicious Whole30 Instant pot recipe. This Whole30 Instant Pot barbacoa beef rivals the flavor of restaurant barbacoa, but with healthy, Whole30 approved ingredients.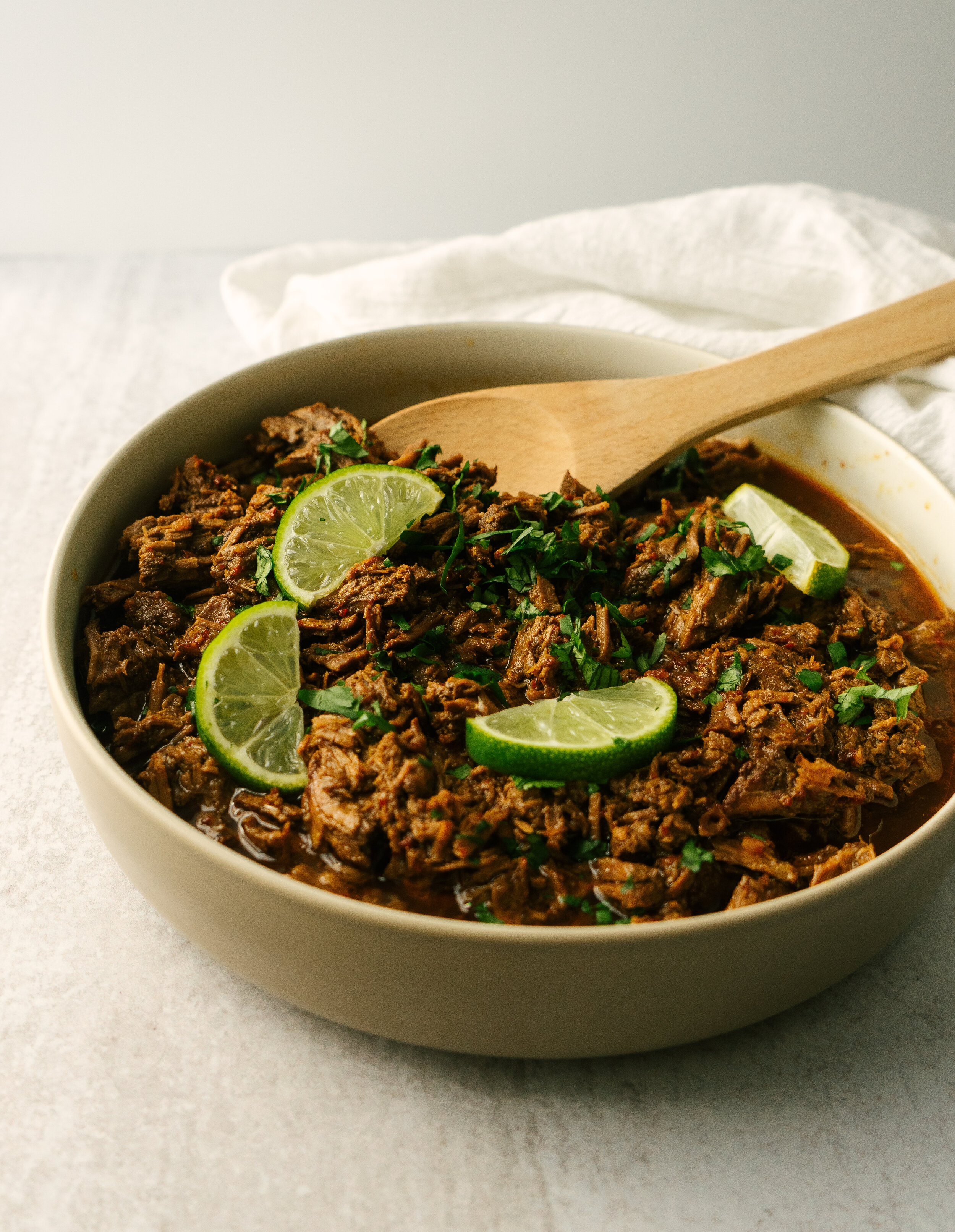 Why should I make this barbacoa beef recipe in the Instant Pot?
Large cuts of beef like a shoulder or bottom round can be very tough. To tenderize this beef you would need to cook it for a very long time. When you cook the beef in an Instant Pot under pressure the meat tenderizes much faster than other methods.
What ingredients do you need to make this healthy barbacoa beef?
Bottom or shoulder roast

Oil

Garlic cloves

Chipotle chilis

Beef broth or beef bone broth

Cumin

Oregano
Let's make this Whole30 Instant pot recipe!
Step 1: Prep and sear the beef
Trim excess fat from the roast and cut into 3 even pieces. Season the beef liberally with salt on all sides. Heat oil in an Instant Pot on saute. When the oil is hot add the beef to the pot and sear on all sides.
Step 2: make the sauce
While you sear your beef, prepare the sauce. Add garlic, dates, chipotle chilis, apple cider vinegar, beef broth, and spices to a blender. Blend on high until a smooth sauce remains.
Step 3: Cook under pressure
Turn the Instant Pot off saute, but leave the beef in the pot. Pour in the sauce and stir the beef gently. Close the Instant Pot and set the vent to sealing.
Set the Instant Pot on manual for 40 minutes. Allow the Instant Pot to come to pressure and then cook for 40 minutes. When the Instant Pot beeps, immediately release the pressure.
Step 4: shred and enjoy
Remove the beef from the Instant Pot and shred with two forks. Return the shredded beef to the pot to mix back in with the sauce. Now you are ready to enjoy your barbacoa beef on tacos, nachos and burrito bowls!
Keep reading to find the full recipe! If you make this Whole30 Instant Pot barbacoa beef, please let me know in the comments or on Instagram!!
Whole30 Instant Pot Barbacoa
prep time: 15 M
cook time: 1 hour
total time: 1 H & 15 M
ingredients:
2.5 lb bottom roast or shoulder roast
Salt for seasoning meat
2 Tbsp oil
3 cloves of garlic
1 cup apple cider vinegar
3 chipotle chilis (dried or in adobo)
2/3 cup beef broth or beef bone broth
2 pitted dates
1 tbsp cumin
2 tsp dried oregano
2 tsp salt
instructions:
How to cook Whole30 Instant Pot Barbacoa
Trim excess fat from beef roast, cut into 4 pieces and salt liberally on each side
Heat oil in instant pot on sauté
Add beef to the Instant Pot and brown on each side
Turn the Instant Pot off sauté mode
Blend garlic, vinegar, chiles, broth, dates, cumin, oregano, and salt in a blender until a smooth sauce remains
Pour liquid over browned beef in the instant pot
Close the instant pot and set vent to sealing
Set the pot to manual for 45 minutes
Allow the Instant Pot to come to pressure and then cook for 45 minutes
When the Instant Pot beeps manually release pressure and open instant pot
Shred beef with 2 forks and stir shredded beef back into the extra sauce in the Instant Pot