This post contains affiliate links.
This post is sponsored by Real Good Foods. I received compensation, but all opinions are my own.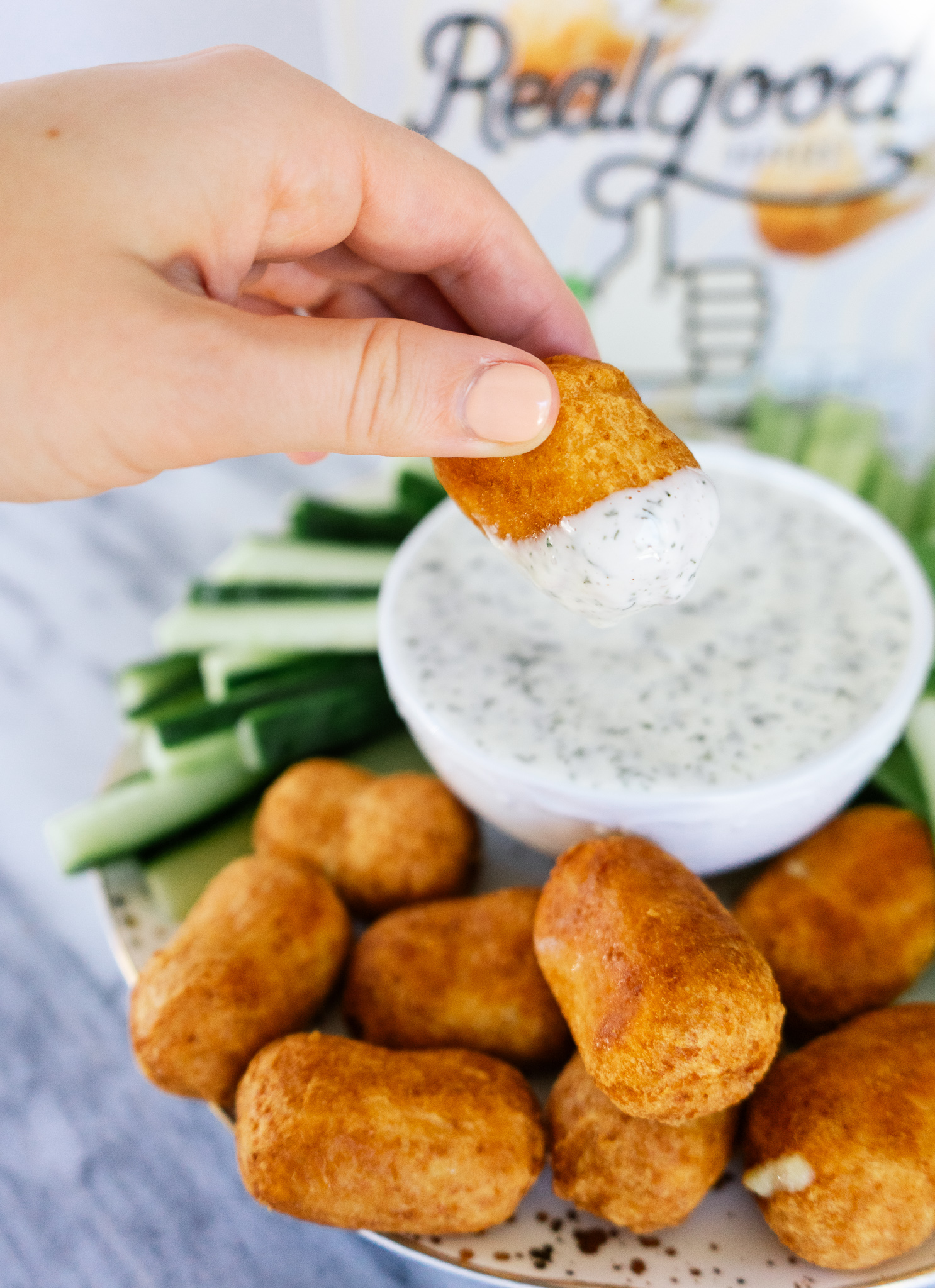 Snack time is no joke for me. When I meet someone who says they really don't snack too often, I know its just not going to work out between us. I don't need that snack negativity in my life!! This simple homemade ranch dressing paired with some veggies and artichoke and cheddar real good poppers is a heavenly snack. Recently Real Good Foods sent me some of their snacks to try and I am loving them! They are such an easy way to have a filling snack or meal on hand at all times. Beyond just being delicious, I love this companies mission. They just want to make a better snack option available to more people. Thats why on their website you can get free 2 day shipping and you can find their product in many grocery stores across the US.
Real Good Foods sells all different flavors of the poppers (like their newest bacon and cheddar flavor!!) as well as so many other snack foods. We loved the enchiladas and cannot wait to try their mini pizza snack bites because clearly I am a fan of mini, bite size, snackable things!!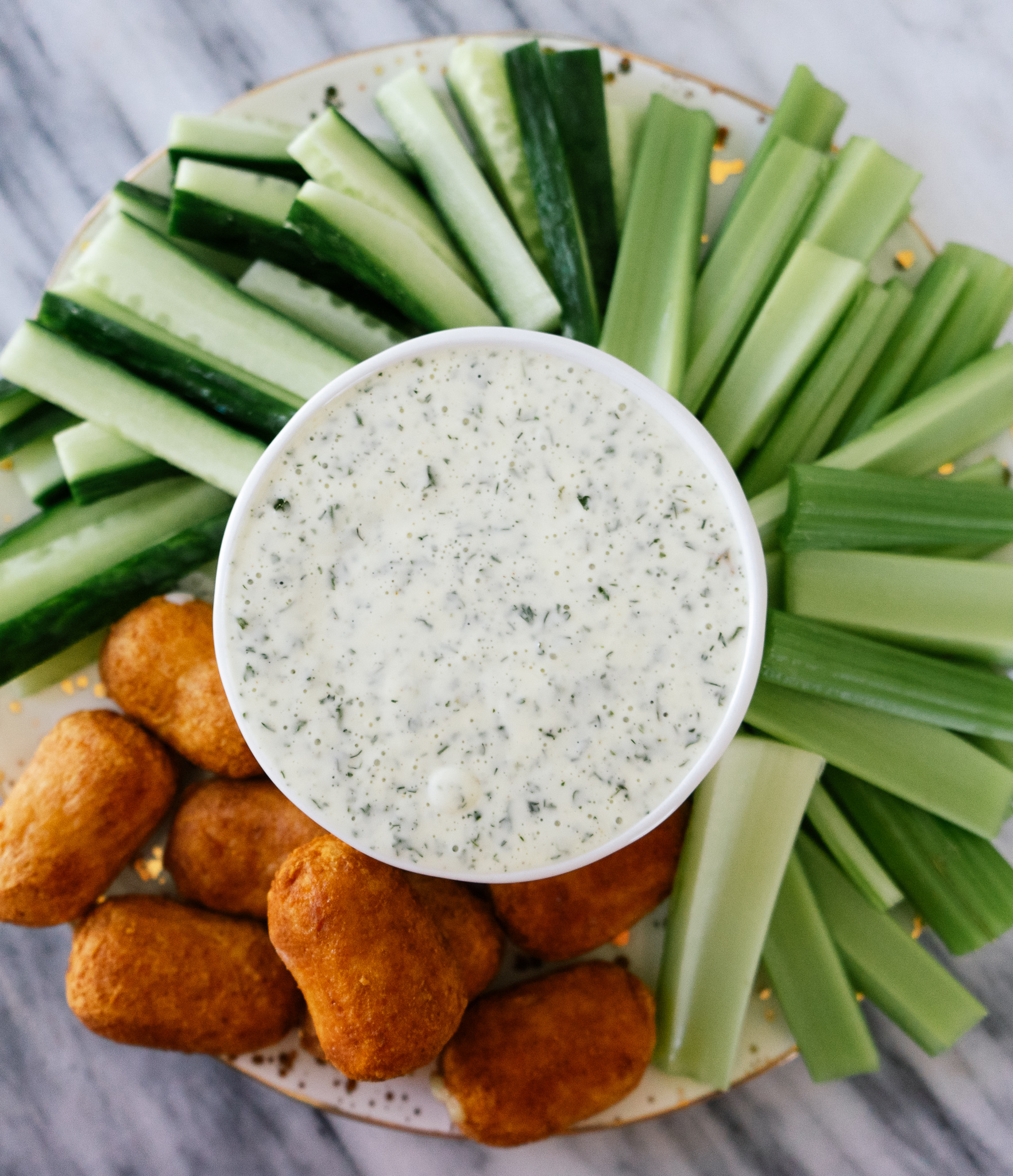 When I first tried these delicious little poppers they reminded me so much of a chicken nugget and I wanted some dipping sauces!! They are grain free and made with a chicken crust instead of a traditional flour crust popper. I have been perfecting my homemade ranch since whole30 and I am finally ready to share it with you all. What better way to enjoy ranch than with some fresh cut veggies like cucumbers and celery and some poppers for dipping!! You can see exactly how I make the ranch in the video below.
As you can see in the video it is pretty dang easy to make this simple homemade ranch dressing! I had no idea it was so easy to make so many sauces, dips and dressings until Whole30 forced me out of my comfort zone and into the world of homemade everything. And I actually prefer the homemade sauces. The key to making this ranch is to be sure to use a room temperature egg, to use light olive oil and add the oil to your jar after other ingredients. When you are blending with your immersion blender, start at the bottom and then slowly raise up to incorporate the oil. You can find the full recipe for this simple homemade ranch dressing below and if you try any Real Good Foods products or make the ranch please share with me on Instagram!
Simple Homemade Ranch Dressing
prep time: 2 mins
cook time: 3 mins
total time: 5 mins
ingredients:
1 egg – room temperature***
1 tbsp lemon juice
2 tbsp white vinegar
1/2 tsp salt
1/2 tsp ground pepper
1/2 tsp onion powder
1 cup light olive oil
1/2 tsp dried dill
2 tbsp dried parsley
instructions:
Add egg, lemon juice, white vinegar, salt, pepper and onion powder to a wide mouth jar
Pour light olive oil on top of that
Place immersion blender in the bottom of the jar and blend. With the blender on slowly move it up and down in the jar to incorporate the oil
Turn of the immersion blender and remove it from the jar
Add dill and parsley to the jar and mix in with a spatula
Store in an airtight container in the fridge for one week
NOTES:
CONSUMING RAW OR UNDERCOOKED MEATS, POULTRY, SEAFOOD, SHELLFISH, OR EGGS MAY INCREASE YOUR RISK OF FOODBORNE ILLNESS