This post contains affiliate links.
I rarely crave a sweet breakfast, but every once in a while I'd like to swap my daily eggs for a little yogurt and granola combo. As we inch our way up to fall I decided to try out some grain free pumpkin spice granola. The result was a salty and slightly sweet granola packed with pumpkin spice flavor.
Why grain free granola? Honestly, I have nothing against grains these day except that I find that in the morning I try to keep my carbs a little lower. I find that if I keep breakfast grain free, I have steady energy throughout the day.
Most grain free granolas are loaded with coconut, but my girlfriend isn't a coconut fan so I knew that wasn't an option for me. I made this grain free pumpkin spice granola with just nuts and seeds. Beyond that the only ingredients are honey, coconut oil, pumpkin pie spice and salt!
Note: Some of the links on this page are affiliate links. If you do end up purchasing any of these recommended items, I will receive a small amount of commission. This helps me continue creating great recipes for all of you! Thank you for understanding that I would never recommend a product that I don't actually use and believe in.
Where is the pumpkin? As you read through the ingredients you will notice there isn't any pumpkin in this grain free pumpkin spice granola. That is because pumpkin is very wet and it doesn't really have much flavor.
I opted to leave the pumpkin out and use the pumpkin pie spice for all the pumpkin flavor. From now until basically December 1st you can be sure that I will be adding pumpkin pie spice to as many recipes as possible. Sometimes you just have to lean into the urge to be a basic girl during the fall.
I am so excited for all of the fall recipes. I have already gotten deep into fall content in my kitchen. I am starting with this pumpkin spice grain free granola, but be sure to keep an eye out for all the pastas, chilis and pumpkin baked goods.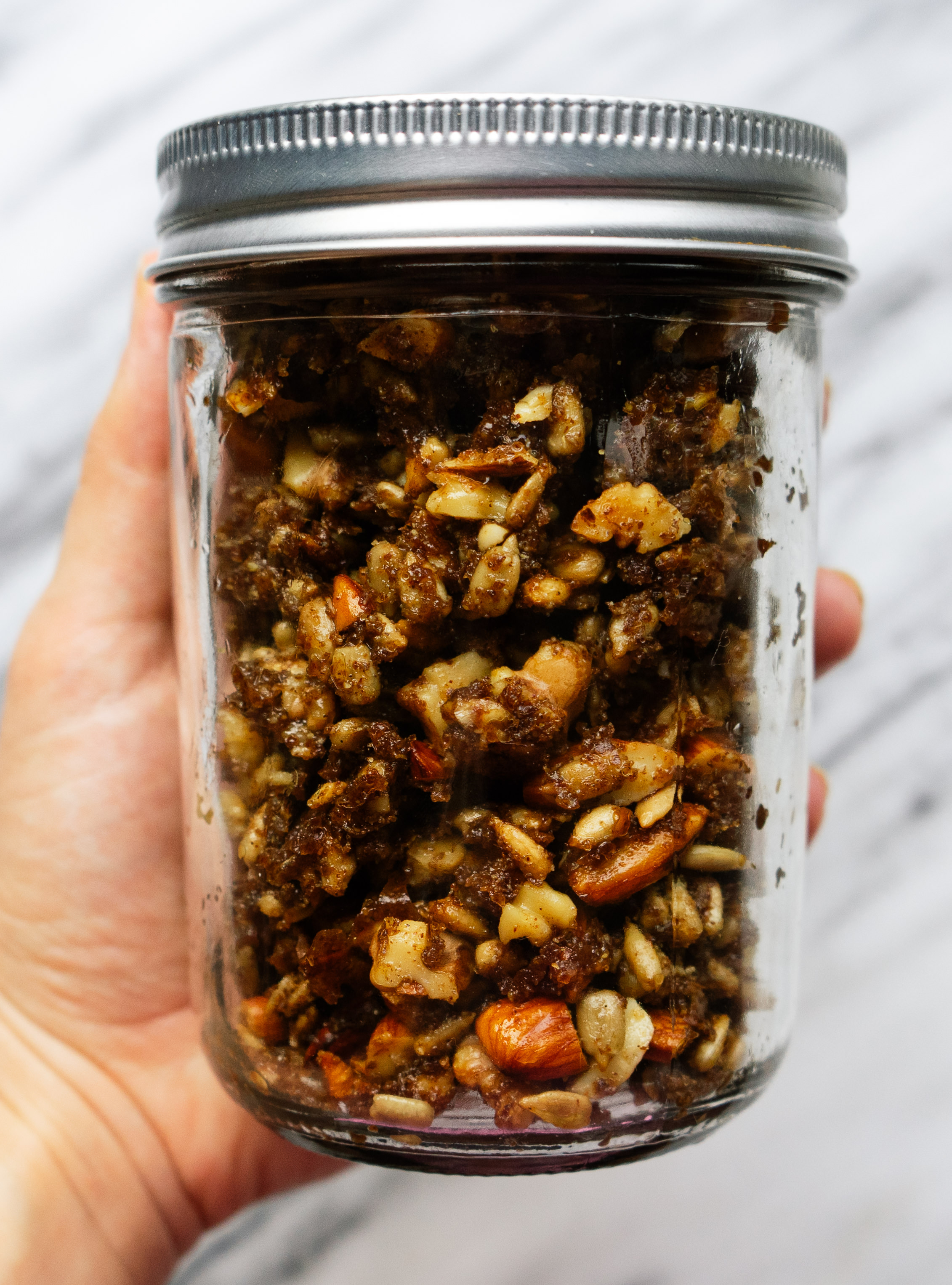 Let's talk kitchen gear and ingredients for this pumpkin spice grain free granola. The only kitchen tools you will need are a sharp knife, mixing bowls, and a sheet pan. The only other thing you might want to grab are glass jars for storage.
The ingredients you will need to make pumpkin spice grain free granola are chopped walnuts, chopped almonds, sunflower seeds, ground flax seeds, honey, coconut oil, salt and pumpkin pie spice. For the walnuts and almonds I would opt for raw, unsalted nuts. You cannot use whole flax seeds because the mixture will be too wet.
I like to serve this grain free pumpkin spice granola with full fat plain greek yogurt and some fresh fruit for breakfast. Amy and I also enjoyed it as a topping for vanilla ice cream and it was delicious! It's also just a good and healthy grab and go snack.
It is easier than you might think to make this pumpkin spice grain free granola at home. Preheat your oven to 325F and line a baking sheet with parchment paper. Chop your almonds and walnuts into smaller pieces.
In a large mixing bowl combine almonds, walnuts, sunflower seeds, and ground flax seed. In a separate mixing bowl combine honey, melted coconut oil, salt, and pumpkin pie spice. If they don't combine easily just gently heat the mixture in a microwave or over a double boiler to melt the coconut oil.
Pour the wet mixture over the dry and mix thoroughly. Pour granola mixture onto a baking sheet and spread it out. Bake at 325F for 35 minutes. Allow the granola to cool completely, at least 30 minutes, before crumbling and enjoying!
Store the pumpkin spice grain free granola in an airtight container on the counter for up to a week. It will likely keep longer in the refrigerator, but I have not tested this yet! Keep reading to find the whole recipe. As always, if you make this recipe, please let me know in the comments or on Instagram!
Pumpkin Spice Grain Free Granola
prep time: 10 M
cook time: 35 M
total time: 45 M
instructions:
How to cook Pumpkin Spice Grain Free Granola
Preheat oven to 325F and line a baking sheet with parchment
Roughly chop walnuts and almonds
Place chopped walnuts, chopped almonds, sunflower seeds, and ground flaxseed into a large mixing bowl
In a small mixing bowl combine melted coconut oil, honey, salt, and pumpkin pie spice – if your ingredients do not mix easily gently warm the mixture in the microwave or over a double boiler to heat the coconut oil
Pour coconut oil and honey mixture over the nuts and seeds
Stir the mixture until all nuts and seeds are evenly coated
Pour the mixture onto the lined baking sheet and spread into an even layer – I like to leave my granola in a solid sheet so that when it is done baking I can break it into crumbles
Bake in the oven for 20 minutes and then mix the granola gently with a spatula
Return the granola to the oven and cook for an additional 15 minutes
Remove the granola from the oven to cool – it will still be wet when removed from the oven but will harden as it cools
Allow your granola to cool for at least 30 minutes and then crumble and enjoy!
Store your granola in airtight containers on your kitchen counter for up to 1 week