This post contains affiliate links.
When I began looking for a new apartment in Philadelphia I was looking for two things:
A big kitchen

Lots of natural light
I quickly learned that there was no way I was going to find both of those things in a studio in my price range, but I did fall in love with a place with tons of natural light and a gas stove so I only partially had to compromise on my first point.
I love my new apartment, but I have to be honest the kitchen is TINY. If you live in New York or D.C. you might not be shocked by it, but coming from Atlanta I couldn't fathom a kitchen with 0 cabinets. SO I knew that when I started to fill it I needed to be extremely intentional and strategic. Luckily I was starting with a blank canvas so I could be very intentional about what I was getting.
A great place to order all of these items is from Thrive Market especially is you are embarking on a Whole30 and know that it would be good to stock up on some of these things. You can follow this link to get 25% off your first Thrive Market order and a free 30 day trial membership.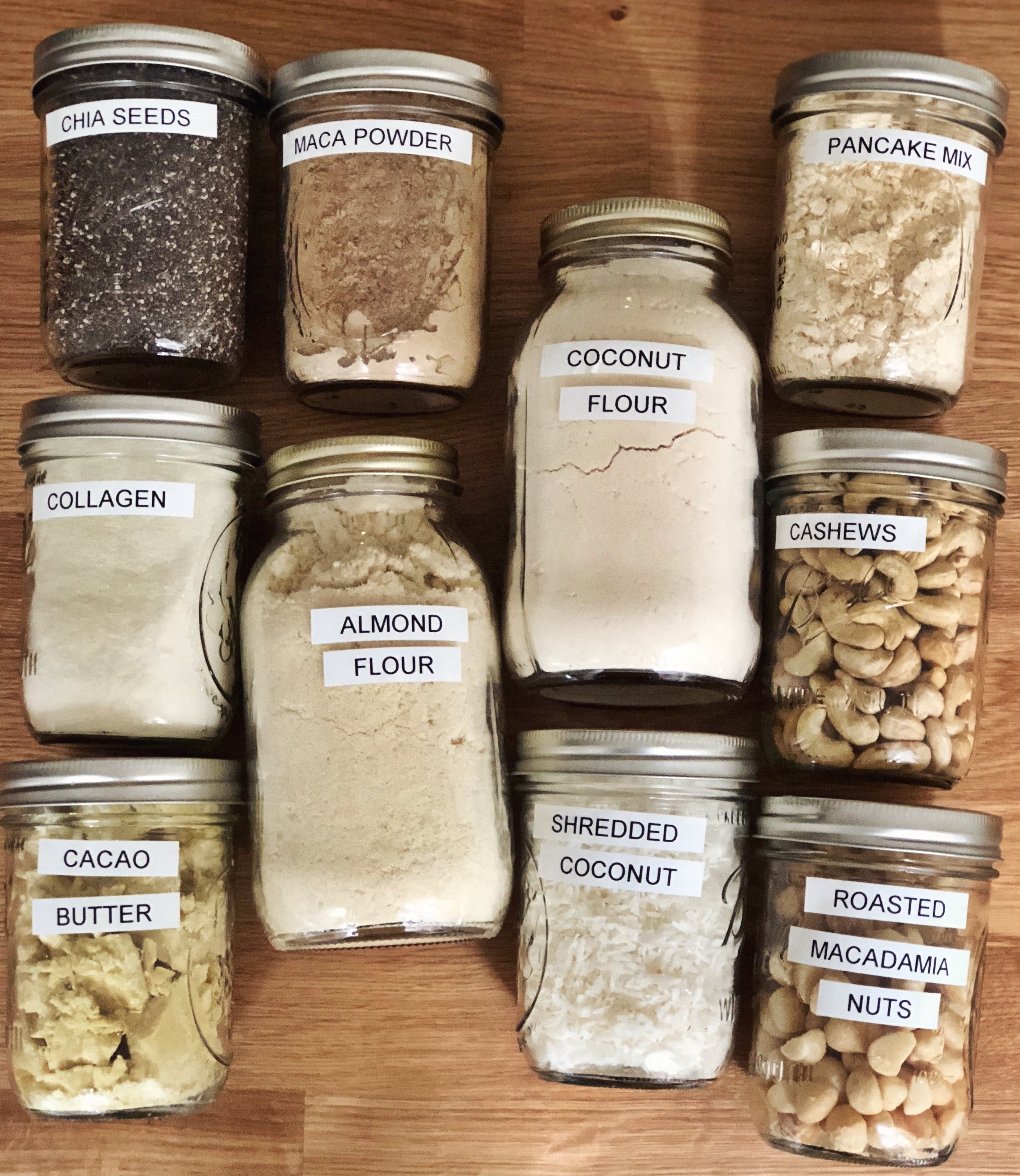 I have prepared a checklist and attached it here that you can download and use to stock your own pantries! As a disclaimer, I follow certain dietary guidelines when I cook at home so my list of pantry items reflect the fact that I am currently avoiding grains, dairy, soy, corn and nightshade vegetables.
Some of my pantry must haves including my favorite brands:
Olive Oil – Braggs or Trader Joe's brand

Coconut Oil – Thrive Market brand

Avocado Oil – Chosen Foods, Primal Kitchen Foods from Thrive Market or Whole Foods

Spray Coconut and Avocado Oil – Chosen Foods from Whole Foods or sometimes super cheap at TJ Maxx!!

MCT Oil – I used to be picky about the brand, but lately I have been loving Sports Research Brand

Apple Cider Vinegar – Braggs or Thrive Market brand

White Balsamic Vinegar – Trader Joe's brand

Red Wine Vinegar – Thrive Market or Trader Joes

Coconut Aminos – Coconut Secret, Trader Joe's brand or Thrive Market brand

Almond butter and other nut butters – Trader Joe's consistently has the best prices and quality on these

Tahini – Soom Foods is the BEST (PS don't sleep on the chocolate tahini!!)

Coconut Butter – Amazon has the best prices

Raw Cacao Butter – Again Amazon kills it for this – this item is a MUST for my bulletproof coffee and Matcha!

Avocado Oil Mayo – Chosen foods and Primal Kitchen Foods from Thrive Market

Spices and Seasonings – Trader Joes always

Nutritional Yeast – Braggs or Thrive Market brand

Raw Nuts and Seeds – Trader Joes or Amazon – my favorite raw cashews

Collagen – My moms into Sports Research also like Further Food – Discount Code: MADABOUTFOOD10

Coconut and Almond Flour – Now Foods and Bob's Red Mill – During the Whole30 these are not to be used for paleo baked goods.

Cassava Flour – Otto's is hands down the best! – During the Whole30 these are not to be used for paleo baked goods.

Pancake Mix – Paleo pancake mix from Birch Benders ***Not Whole30 compliant

Tea bags – Yogi Tea or Trader Joe's – my favorite at the moment is peppermint

Sprinkles! – I am loving ones from Amazon with natural dyes.

Dutch Cocoa Powder – GAME CHANGER for baking

Grain Free Pasta – Cybele's is my current favorite, but I always like Banza pasta! ***Not Whole30 compliant

Dairy free creamer – Califia Farms is my favorite brand and you can't beat 0 added sugar.

Safe Catch Tuna – having this in my pantry has saved me from lunchtime hanger on multiple occasions.

Eating Evolved Midnight Coconut – 100% Cacao Chocolate from Thrive Market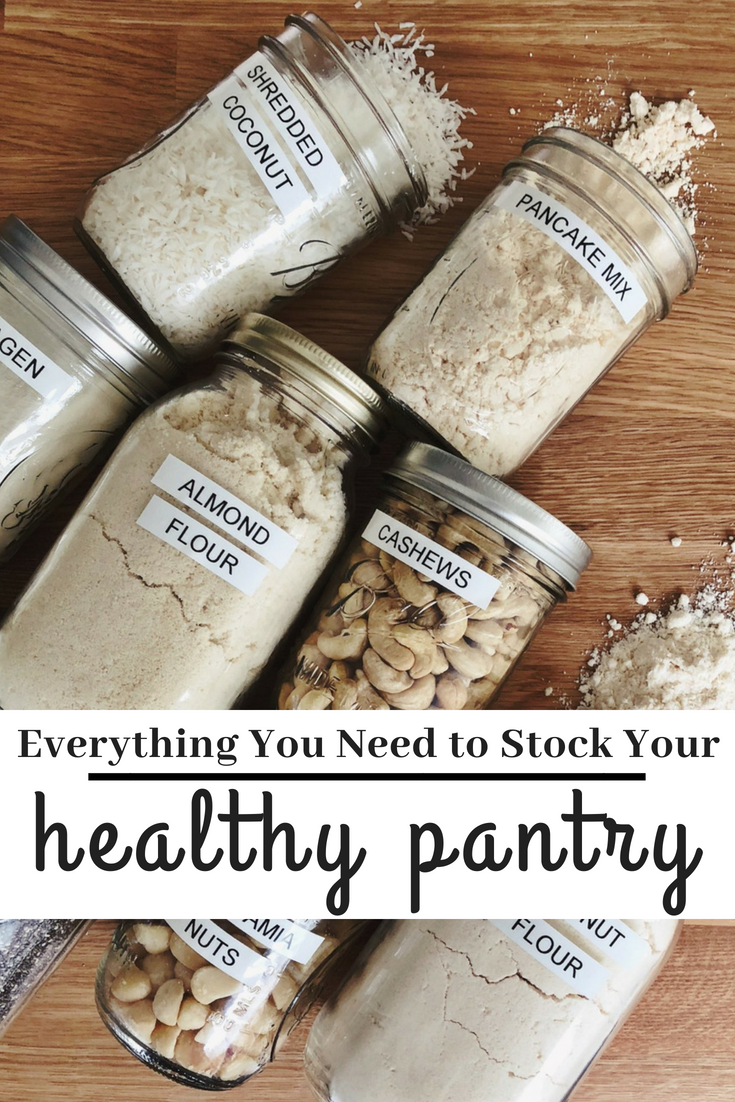 Note: Some of the links on this page are affiliate links. If you do end up purchasing any of these recommended items, I will receive a small amount of commission. This helps me continue creating great recipes for all of you! Thank you for understanding that I would never recommend a product that I don't actually use and believe in.