This post contains affiliate links.
I am on a real curry kick over here. If you haven't checked out my Pumpkin Coconut Chicken Curry yet, definitely give that a look. This budget friendly spinach and chickpea curry definitely rivals that one and is super friendly on the wallet.
Did you know that curry is just a mix of different spices? A sweet friend of mine reached out to me wondering what would happen if she added curry powder to my pumpkin curry recipe. I told her I guess it would just make flavors more intense since many of the spices I had included in the recipe were already included in that curry mix. Sure enough she sent me the back of the jar and many were already there! SO money saving tip: buy normal spices that you can use in any recipe and make your own spice mixes at home!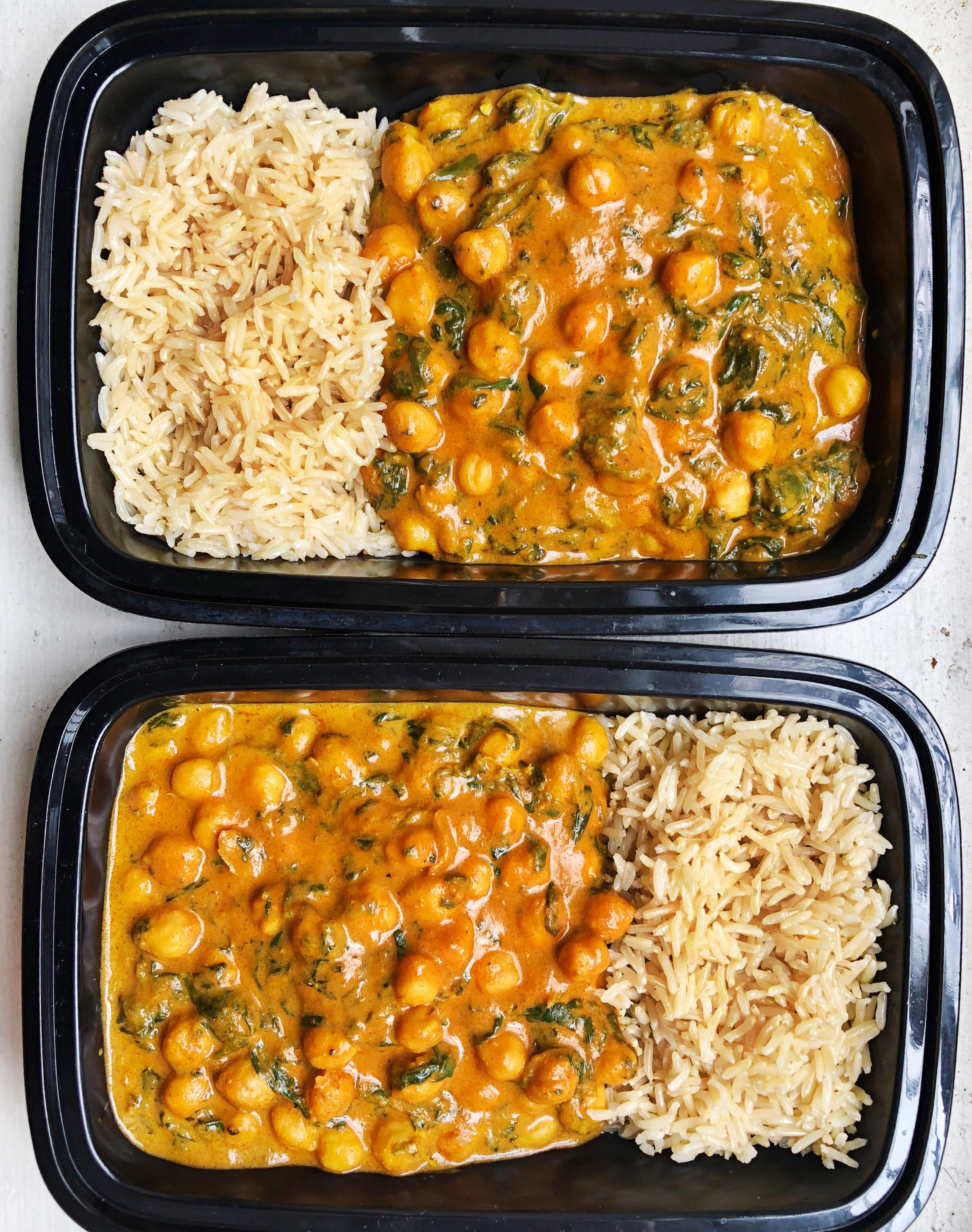 I don't want to go on and on about something I have already covered, but I did a grocery challenge on instagram where I challenged myself to do a healthy grocery shop on a budget. Two of the stores were around $40 and the other was $46. I was able to get over 10 meals out of each shop. This showed me that I can still eat healthy and interesting meals on a budget! Other than the rice and ghee, every single ingredient in this curry came straight from my grocery challenge. I totaled up all of the ingredients (except for the spices) and the total came to $1.52 per serving for an extremely delicious, nutritious and satisfying meal.
As soon as this curry and rice was prepared I placed them in my meal prep containers for a lunch later that day and the next day! I get lots of questions on IG about the meal prep containers I use. You can see all of my favorites here or the ones I used for this recipe here. I live for recipes that still taste good reheated and enjoyed again later. No matter what I make, someone is taking it for lunch the next day; sometimes its me and sometimes its my sweet girlfriend. No matter what the meal is, I always get a little text that says, "This was so great!" I know everything can't be the best, but it makes me feel reaaalll good 🙂
Yield: 2 Servings
Spinach and Chickpea Curry
prep time: 5 mins
cook time: 15 mins
total time: 20 mins
ingredients:
1 can of chickpeas
1/2 cup dry brown basmati rice (like this one!)
2 tbsp ghee – Trader Joe's has an affordable version, but you can sub coconut oil for vegan option
1 cup unsweetened almond milk
1/4 cup tomato paste
1 cup chopped frozen spinach
1/2 tsp cinnamon
1/2 tsp cumin
1/2 tsp chili powder
1 tsp turmeric
1 tsp salt
1/4 tsp cardamom
1/2 tsp ground black pepper
instructions:
Cook basmati rice according to package instructions
Combine spices in a large mixing bowl
Drain and rinse a can of chickpeas and then pour chickpeas into the bowl and coat thoroughly with spices
Heat ghee in a large frying pan or wok over medium heat
Once ghee is melted and heated, add seasoned chickpeas to the pan. Increase heat to medium high and cook for 5 minutes, tossing occasionally.
After 5 minutes add chopped frozen spinach and cook for 3 minutes
In mixing bowl whisk together almond milk and tomato paste. Pour mixture over chickpeas and spinach
Cook curry for 5-7 minutes over medium high heat and allow the sauce to reduce
Cool slightly and serve warm over a serving of basmati rice
Note: Some of the links on this page are affiliate links. If you do end up purchasing any of these recommended items, I will receive a small amount of commission. This helps me continue creating great recipes for all of you! Thank you for understanding that I would never recommend a product that I don't actually use and believe in.